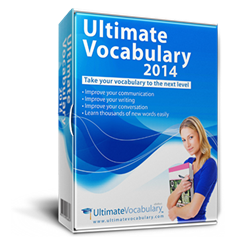 Using power words, job candidates must approach their potential references and politely but assertively ask them to be their reference.
New York City, NY (PRWEB) November 16, 2014
eReflect is the designer of Ultimate Vocabulary™, a vocabulary builder that helps people improve vocabulary and their communication skills. In their latest blog post, the company shares a helpful guide on how to get great references to use for a job interview.
According to the Ultimate Vocabulary editors, references count a lot. In fact, they might give a candidate the winning push in landing a job. For that reason, eReflect advises job seekers to be extra careful when choosing their references. eReflect outlines a five-step strategy to ensure the best possible outcome during the job hunting progress.
The first step toward finding a reliable reference is making sure that they will speak highly of a job candidate. In other words, notes eReflect, it is important to choose references intelligently. It's better to choose a reference a person is certain will facilitate their job interview rather than inhibit it.
Ideally, job candidates shouldn't approach people that might hurt their likelihood of being hired, eReflect notes. A mentor, coach, former boss, or manager is a great place to start - especially for entry level job seekers with no or little work experience.
eReflect recommends that job seekers be proactive about getting references. Job hunters should have a few references available at a moment's notice so that once a hiring manager asks for them, the candidate will be able to name the references instantly and confidently. Having references ready before a job interview makes a positive first impression, comments eReflect.
Contacting references in advance and inquiring about their willingness to actually be a reference is an important step, something eReflect also reminds job seekers.
Using power words, job candidates must approach their potential references and politely but assertively ask them to be their reference. What job candidates need to be careful with is details. If a person acting as a reference provides a written reference letter, this must list tangible skills and capabilities the job candidate has, and not be vague and irrelevant. eReflect and Ultimate Vocabulary wish all job candidates good luck with their job hunting.
***********
For more information on how you can benefit from Ultimate Vocabulary, please visit its official website, http://www.ultimatevocabulary.com.
About Ultimate Vocabulary™
Ultimate Vocabulary provides a proven and powerful platform, built to improve anyone's vocabulary.
The interactive self-improvement system provides more learning tools than any other program on the market, as well as more information on words.
The Ultimate Vocabulary software provides each and every user with a personal computer tutor. Providing a step-by-step guide to learning a powerful vocabulary, Ultimate Vocabulary is the learning tool everyone can benefit from.
Of course, the software is also backed by eReflect's iron-clad money back guarantee.