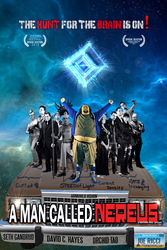 The first Meta-physical Action Comedy!
Los Angeles. CA (PRWEB) November 18, 2014
A Man Called Nereus, a Nathan Hill film is proud to announce in addition to Itunes, Amazon and Indie reign, Continuum Motion Pictures will be adding the VOD platforms of Xbox, Playstation, Youtube and Dish Cable. Additional platforms are being considered worldwide. Continuum Motion Pictures in association with Eone and Matriarch Multimedia Studios at Paramount Studios will exercise the full potential of this original story written by Nathan Hill. For more info go to: http://www.continuummotionpictures.com
This partnership signals rapid growth at Armored Vision, an Arizona based studio. This agreement is a result of hard work by the principle members of Armored Vision to climb the proverbial ladder in the entertainment industry, which is a rapidly transforming landscape.
Be sure to check out this unique genre smashing film at: http://www.amancallednereus.com. This movie has captivated film cultists everywhere.
Armored Vision has recently announced its next production. An Allegorical Western written by Nathan Hill titled, "Hades Awaits". For more information go to: http://www.hadesawaits.com. A.V. is currently in negotiations with key actors and preparing for a fund raising campaign on Indie go-go as well as securing additional financing from private investors. "Studio support would be our underlying goal," says Producer, Keith Wilson. Stay tuned for more announcements from this studio in Arizona. Hats off to Continuum Motion Pictures for recognizing this unique film and the up and coming talent of Director/Writer Nathan Hill. Read A Man Called Nereus Movie Review at: http://www.searchmytrash.com/movies/mancallednereus(2012).shtml