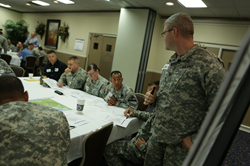 "...We aim to empower veterans with the tools to break down these [transition] barriers."Jim "Murph" MurphyAfterburner Founder & CEO
Washington, D.C. (PRWEB) November 14, 2014
Afterburner, Inc., an Atlanta-based management training and consulting firm, was nominated by the U.S. Chamber of Commerce Foundation for the Hiring Our Heroes Capital One Award for Small Business Veteran and Military Spouse Employment. The veteran-owned-and-operated consulting firm was one of 22 businesses nominated for six awards that recognized individual and organizational excellence in hiring and retaining veterans, transitioning service members, and military spouses.
"Afterburner has been a true small business leader in the movement to hire and support our nation's veterans and military spouses," said Eric Eversole, vice president at the U.S. Chamber of Commerce and executive director of Hiring Our Heroes. "Afterburner understands the value in hiring the men and women who have served our country and has dedicated extraordinary efforts toward improving the lives of America's veterans and military spouses."
Afterburner comprises more than 50 current and former military professionals who train organizations around the world in the leadership techniques and continuous improvement processes of elite military teams. While working with some of the world's top corporations, Afterburner founder and CEO, Jim "Murph" Murphy, recognized the demand for veteran skillsets. Last year, Murphy, a former F-15 instructor pilot for the U.S. Air Force, and Afterburner's director of learning & development, USN CDR (ret.) William Duke, set out to develop a transition preparation course for veterans that would help bridge the gap between corporations and transitioning veterans.
"Every day around the world, we train our clients how to operate like elite military teams," Murphy says. "These organizations recognize and seek the skillsets that military service members possess, yet our veteran unemployment numbers remain high.
"This isn't a disparity in talent or experience. This is a disparity in communication as these in-demand skillsets are lost in translation. With the MLTS, we aim to empower veterans with the tools to break down these barriers."
Leveraging the unique experiences of Afterburner's veteran workforce, Murphy and Duke introduced the Military Leader Transition Seminar (MLTS) in December 2013, a day-long, strategic planning course for veterans and their spouses. The program helps veterans focus on the oft-forgotten elements of transition: the shift in mindset from military to civilian occupation, translating skillsets and experience to civilian employers, and aligning daily efforts to achieving a career versus a job. Through partnerships with organizations like fellow award nominee, USAA, the Afterburner team has trained more than 800 veterans and their spouses across six military installations in 2014.
The MLTS curriculum is widely available in the corresponding career preparation book, Down Range: A Transitioning Veteran's Career Guide to Life's Next Phase (2013). For more information on the Military Leader Transition Seminar and partnership opportunities, visit us online at http://www.afterburnerplacement.com/mlts.htm.
About Afterburner, Inc.©
Afterburner Inc. was founded in 1996 by U.S. Air Force fighter pilot Jim "Murph" Murphy and trains organizations around the world in the simple, scalable improvement processes of Flawless Execution. Encompassing three management solutions, Empower, Equip and Embed, Afterburner brings elite military precision to top corporations around the world. With a client list that includes over 30 percent of the U.S. Fortune 500, Afterburner has ranked among Inc. Magazine's "Inc. 500 List of America's Fastest Growing Companies" three times and has been featured in leading publications like The Wall Street Journal, Businessweek, Atlanta Business Chronicle, Financial Times, Newsweek, and Meetings and Conventions Magazine. Afterburner also has appeared on CNN, CNBC, Fox News and Bloomberg News, among others. To learn more about Afterburner's innovative approach to professional development and strategy, visit http://www.Afterburner.com or call (888) 982-6764.