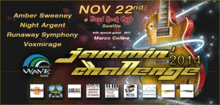 "These are four of the top young emerging bands in the Northwest. The judges will have a difficult time making their decision on Nov. 22." stated Mark Gordon, co-owner of WAVE radio.
Seattle, WA (PRWEB) November 13, 2014
Seattle WAVE Radio hosts the fourth annual Jammin' Challenge, where up and coming Northwest bands will compete for over $15,000 in prizes, on Saturday, Nov. 22, from 7:30 p.m. to 1:30 a.m. at Hard Rock Cafe Seattle. Rock & Roll Hall of Fame Inductee and former Seattle radio personality known for breaking bands that defined the Northwest sound in the '90s, Marco Collins will emcee this event. Tickets are on sale now at Admission to the event is $7 in advance at http://www.brownpapertickets.com/event/905973, or $10 cash at the door.
"The final four bands have been through two separate on-line elimination rounds, with two different panels of judges drawn form the Seattle music scene," stated Mark Gordon, co-owner of the station. "These are four of the top young emerging bands in the Northwest. The judges will have a difficult time making their decision on Nov. 22." says Gordon.
The Final Four bands are:
Amber Sweeney: an accomplished soul/rock singer, songwriter, and recording artist who recently signed with Seattle based record label, London Tone Music, to release a single as part of their 52x52: A Year In Your Ear project. Her single "Lone Sailor," produced by Geoff Ott, was released earlier this year. Amber also spent some quality time with Robert Parish and Rebecca Web at Portland Radio Project on October 29, 2014.
Night Argent: combining the infectious melodies of a Top 40 Pop act, with the high energy live stage show of a well traveled rock band. Chase Manhattan, Jeff Stachofsky, Shane Santanna, Evan Taylor, and Zac Burrell are the five individuals who give Night Argent their truly dynamic, breakthrough sound. Having spent the majority of their time on the road playing Universities and festivals, Night Argent has opened up for Imagine Dragons, and played alongside Andy Grammar, Parachute, Andrew Belle, Lindsey Sterling, and more. Their music has won Grand Prize at the John Lennon Songwriting Contest, and awards from the Billboard World Song Contest and ISC. The Night Argent YouTube channel has generated over 2 Million views; while their music has been featured on MTV, Bravo, and Showtime.
Runaway Symphony: Deeply poetic lyrics, harmonies, clean, glassy textures that sweep into mayhem, and an energetic/relatable on-stage presence is a good way to describe Runaway Symphony's show. Their musical performances have been described as "Cinematic". Their music has influence from Coldplay, One Republic, Explosions In The Sky, Sigur Ros, Mumford & Sons.
Aradia: Has culled an original sound that can only be called 'roktronika'; born of a love for new wave, trip-hop, rock and hardcore Electronica that recalls an otherworldly mix of Donna Summer, Trent Reznor, David Bowie and George Harrison. Her songwriting is driven by a deep intellect, but there is nothing pretentious in Aradia's nature. She writes as she speaks, in a simple and observational style that Occam would be proud of. Her voice is iconic; the kind that makes people stop what they are doing to find out who that voice is coming from.  
As a part of the first place prize package, the Seattle WAVE Radio Jammin' Challenge will give 1 lucky and talented local band an opportunity to play on-stage with some of the "greats" in the Seattle music scene at Play it Forward V, a benefit for Music Aid Northwest, which raises funds for music education in Washington State. Music Aid Northwest was the driving force behind HB1329, which was signed into law on May 3, 2011. Seattle WAVE Radio is in partnership with several local music-oriented businesses who have donated the prizes for the final four bands, including London Bridge Studio, Utopia Media and Entertainment; Critical Sun Studios; and Bill Bungard Photography.
Seattle WAVE Radio is a locally owned event and streaming radio website with 8 different channels featuring Northwest area bands and artists. Listeners from 117 different countries around the world tune in on a regular basis to listen to the newest and freshest of local Northwest Music. Seattle WAVE Radio also allows music fans to discover easily what is happening at a number of different venues in Seattle on any given night via their online event calendar. Press Passes are available upon request.
###