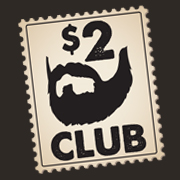 Your most epic beard ever for only a few dollars a month!
Pasadena, Maryland (PRWEB) November 16, 2014
2DollarBeardClub.com, a new membership service delivering high-quality all-natural beard oils to the doors of its members for as low as $2 a month plus shipping, announces its launch of the company's new e-commerce website. Forget shave clubs, 2 Dollar Beard Club is the first beard membership club under $5 a month, and its low cost membership offers members a regular monthly shipment of high quality beard oil that any beardbrother can be proud of.
"We started the company because we wanted a beard oil that was (FAME), For All Men, Economical," said Nathan Perry, founder of veteran-owned 2DollarBeardClub.com. "We don't think price should be a deterrent to taking care of your facial hair. We want all men to be able to afford and benefit from becoming a member of 2DollarBeardClub.com."
The most common complaint by men who use beard oil is that the price is too high. Enter the 2dollarbeardclub which makes affordability, without sacrificing quality, it's goal. At $2 a bottle the FAME Original beard oil is comparable to beard oils 6-10 times the price which shows 2 Dollar Beard Club's commitment to quality and affordability.
2 Dollar Beard Club's oils are all high quality, all-natural and proudly hand crafted in the USA. Members will be able to choose from three fantastic all-natural oils:
-FAME Original: with 5 ingredients this oil is the standard for beard oils everywhere ($2/month, plus s+h)
-FAME Plus: this 7 ingredient oil is based on FAME original oil plus argan oil and avocado oil for added hair and skin health benefits ($8/month, shipping included)
-BeardBrothers Premium: specially formulated beard oil containing more than 10 ingredients including argan and jojoba oil is hand-crafted for the serious beardsman ($13/month, shipping included).
2 Dollar Beard Club's website is easy to navigate and members can seamlessly upgrade or downgrade between beard oils whenever they choose. The member can select to pay for 1 year up front, or he can choose a monthly pay-as-you go option. Along with the beard oil subscription, members can choose from a number of other high quality add on products such as moustache wax and beard balm, all of which can be found under the "Other Products" tab at 2DollarBeardClub.com/otherproducts.
About
2DollarBeardClub.com is owned and managed by veteran-owned BeardBrothers LLC. Which takes pride in creating the best beard products available. All products are proudly made in the USA and contain only all-natural ingredients. BeardBrothers LLC. has carried over the values learned from the military and has used those values to quickly become a well-run one-stop-shop for facial hair care. The company has placed customer satisfaction at the forefront of everything it does and continues to offer the best options for a better beard. If you have a beard, then you are a BeardBrother.