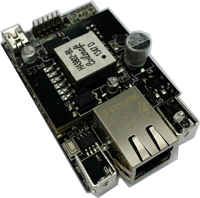 PoE and AVB combined in an OEM friendly package.
(PRWEB) November 17, 2014
The AVB-SWP (AVB Switch with PoE+ support) and AVB-DGP (PoE powered AVB endpoint) are the latest addition to DSP4YOU's growing portfolio.
DSP4YOU's AVB-SWP is a pocket size 5-port network switch combining the latest Audio Video Bridging (AVB) standards and PoE+ support in a pocket size package. With a 400 MHz ARM9 processor at its core, the AVB-SWP enables 30 watts of power to be delivered by 4 ports to individual end points through the PoE+ standard.
The IEEE Audio Video Bridging standard is an open and interoperable standard enabling the precise timing and accurate synchronization of multiple streams of audio and video across devices over 802-based networks. Benefits to customers include easier integration of multi-channel audio and video, lower cost-per-node, and enhanced functionality and control of advanced audio and video networks. The AVB-SWP is ideally suited for powered speaker applications for professional AV, home theater and car audio applications.
DSP4YOU is also excited to announce an upgrade to our low cost AVB-DG OEM module. With the release of an optional PoE module, the AVB-DGP is the lowest cost PoE + AVB solution module on the market. Note that existing customer can easily upgrade their AVB-DG by purchasing the PoE module only.
The product is available immediately from our website and well suited for development of OEM applications with a short time-to-market requirement. Please visit the product page for more information:
About DSP4YOU
DSP4YOU designs, develops and produces high quality audio products for users who seek to create and enjoy the best possible sound. Established in 2009, DSP4YOU is composed of audio and electronic engineers together with business minds whose passion for audio has driven product development and created a loyal customer base and user community in over 30 countries worldwide.