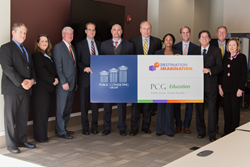 PCG and Destination Imagination share a common goal of enabling student success through project-based learning.
Cherry Hill, NJ (PRWEB) November 17, 2014
New collaboration between organizations to provide leading educational opportunities and resources to students and teachers
Destination Imagination (DI), an educational non-profit organization dedicated to teaching students the creative process through hands-on STEM (science, technology, engineering and mathematics), the arts and service learning Challenges, today announced its partnership with PCG Education to advance project-based learning opportunities for students and teachers throughout the U.S.
PCG Education, a unit of Public Consulting Group (PCG), is a leading U.S. provider of K-12 education consulting and technology solutions, including activity-based learning resources for teachers and students to foster and support STEM and literacy initiatives.
"PCG and Destination Imagination share a common goal of enabling student success through project-based learning. By working with PCG, we will have the opportunity to expand our outreach and provide more students with the opportunity to learn and experience the creative process from imagination to innovation," said Dr. Chuck Cadle, CEO of Destination Imagination.
Through the partnership, PCG Education will repurpose and incorporate DI content into in-school curriculum and afterschool programs for K-12 students. PCG will also partner with DI to deliver summer camp programming that is aligned to state standards, as well as take on the role of recruiting, payroll, fulfillment and delivery of the DI programming.
"We are thrilled to partner with Destination Imagination and employ its engaging activities in our after-school and summer camp programs," said Jim Popp, Manager, PCG Education. "This partnership will help us broaden access to the life-changing benefits of this incredible programming, so that thousands more deserving students will become more capable, confident and happy."
For additional information on Destination Imagination, visit: http://destinationimagination.org and for more information on PCG Education, please visit http://publicconsultinggroup.com.
About Destination Imagination
Destination Imagination, Inc. is a 501(c)(3) cause-driven, volunteer-led non-profit organization that helps children discover their true creative potential. The most popular education offering is the Challenge Program, where student teams solve open-ended STEM, arts and service learning Challenges and present their solutions at tournaments. Founded in 1982, Destination Imagination has impacted more than 1.5 million students. To learn more, please visit http://destinationimagination.org.
About PCG Education
PCG Education offers consulting and technology solutions that help schools, districts, and state education agencies/ministries of education across the U.S. and in Canada and Europe to promote student success, improve programs and processes, and optimize financial resources. The dedicated staff includes more than 50 professionals who have general or special education credentials and/or teaching experience. PCG Education serves 18 of the 25 largest U.S. school districts and has recovered more than $3.6 billion in federal Medicaid funds for school-based health services. Its special education management systems serve more than 1.6 million special education students. More information is available at http://publicconsultinggroup.com.
Public Consulting Group, Inc. (PCG) is a management consulting firm that primarily serves public sector education, health and human services, and other state and municipal government clients. Established in 1986 with headquarters in Boston, Massachusetts, PCG operates from 40 offices around the U.S., in Montreal, London, and in Lodz and Warsaw, Poland. The firm has extensive experience in all 50 states, clients in four Canadian provinces, and a growing practice in the European Union. To learn more, visit http://publicconsultinggroup.com.