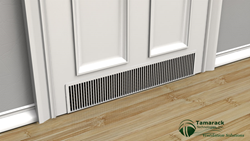 Air pressure imbalance in the home is a silent – but costly – problem not very well understood by the average homeowner but it could be costing money and exposing a family to unhealthy mold and mildew in the bathroom and throughout the house.
Buzzards Bay, MA (PRWEB) November 18, 2014
Tamarack Technologies (http://www.tamtech.com) today announced the addition of another innovative product to its extensive indoor ventilation solutions line-up. Called the 'Perfect Balance Integrated Door Return Air Pathway', this product is designed to create a more comfortable home environment through proper room-to-room air flow while also eliminating some of the stress on a home's heating and cooling systems.
Designed for placement on interior doors, the Perfect Balance is an inexpensive solution to meet the specific Energy Star code that requires the balancing of air pressure between rooms in homes with a central HVAC return.
The Perfect Balance in-door unit allows passive airflow between rooms thus:

Minimizing mold and mildew build-up in bathrooms;
Eliminating pressure imbalances;
Helping HVAC systems run more efficiently;
Baffling noise and diminishing light transfer into a room;
Meeting Energy Star and R2000 standards.
The Perfect Balance unit installs easily, is made of durable, high impact ABS plastic with no moving parts, and can easily be retrofitted into a home's interior doors.
Perfect Balance is also being offered by a number of highly respected builders in new home construction.
Tamarack CEO Tom Colasanto, commenting on the product's introduction, said: "Do-it-yourselfers, builders, contractors and even HVAC engineers will find these in-door units especially appealing as they meet Energy Star and R2000 standards, but do so at minimal cost. Room-to-room pressure imbalances are starting to get the attention of both regulators and the building industry since they can lead to moisture problems and mold build-up; higher energy costs; and fluctuations in room temperature that frequently cause discomfort for the homeowner. We have been in the Return Air Pathway business for many years, and believe this is our simplest, most cost efficient answer to this problem."
Tamarack Technologies, headquartered on Cape Cod, MA, is an industry leader in ventilation solutions, manufacturing state-of-the-art whole house fans, indoor air exchange products, pressure balancing products and electronic controls. The company's products have been designed to use minimal energy, providing years of maintenance-free service while promoting a healthier home environment.