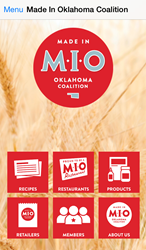 ...this app will be a great benefit to both consumers, Oklahoma retailers, and the State of Oklahoma.
Oklahoma City, OK (PRWEB) November 14, 2014
Oklahoma truly has something that will appeal to all five senses. There's the sight of majestic sunsets, the sound of rolling thunder, the feel of warm summers, the smell of freshly cut wheat, and the taste of delicious foods made right here in Oklahoma.
Now, thanks to the new Made in Oklahoma app, an interactive map of mouth-watering Oklahoma based restaurants is right at your fingertips. This app is the latest tool to help stay connected with our great state, and everything it has to offer.
With over 100 restaurants featured, the map allows users to find local gems all around the state. To assist in the decision-making process, a brief description of each restaurant is included, as well as distance from the user to the restaurants, links to menus, and websites. Contact information is also listed to make reservations for those special occasions. Once users have selected an eatery, the app will connect seamlessly with the phone's GPS to guide users to their destination.
"We believe this app will be a great benefit to both consumers, Oklahoma retailers, and the State of Oklahoma," says Kerry Barrick Marketing Director for the M.I.O Coalition. "We hope it will help create consumer loyalty to Oklahoma products resulting in a boost to the Oklahoma economy."
The app is not just a cornucopia of places to pig out; it is also packed with recipes using Oklahoma based products. From candied bacon to cowboy quiche, there are recipes for every occasion and meal. These recipes are a great way to discover the top-notch products made right here in Oklahoma. Additionally, the app includes a list of retailers that sell M.I.O products, making it easy to locate M.I.O products in your favorite grocery store. So next time you are out shopping be sure to use your new best friend in finding the products produced right here in your home state.
The app is free and available at both the iTunes and Google Play stores.
The Made in Oklahoma Coalition provides a marketing and promotional platform to assist more than 45 current Oklahoma food manufacturers. M.I.O.'s marketing programs build brand preference and loyalty for member products. Coalition-member companies create a positive impact on the Oklahoma economy by helping put more than 27,000 people to work. These member companies generate over 3.5 billion in annual sales for Oklahoma. Collective and cross-marketing programs, organized by the coalition, increase sales throughout the state, nation and abroad. The M.I.O Coalition continues to expand the footprint of Oklahoma's food processing sector through business retention and stable growth. M.I.O., Good for Oklahoma. Good for you. For more information visit http://www.miocoalition.com.
###