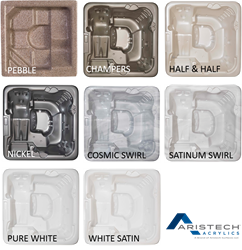 Florence KY (PRWEB) November 16, 2014
Aristech Surfaces LLC launched their new 2015 Aristech Acrylics® Hot Tub color palette at the 2014 International Pool, Spa and Patio Expo that took place in Orlando, Florida last week, November 5-7.
"Last year was our first year exhibiting at the IPSPE after several years of absence." Explains Nicole Menkhaus, Global Marketing Manager for Aristech Surfaces, LLC. "Our company had been through some transition and it was time for us to make our comeback. In 2013 we wanted to make a bold re-entrance, this year it is all about finding calm."
With so much real-time information coming at us from our offices, homes, the world, it is little wonder that stress levels are reaching new highs. Every day we learn more and more about the effects that chronic stress has on our health and well-being, whether from the news or our own bodies.
Spas and hot tubs can be a unique and welcome escape from all the stress - provided one leaves cell phones, tablets and TVs out of the experience. Warm water, buoyancy and massage help relieve tense muscles; quality time away from the daily stressors helps relieve over-stimulated minds.
Aristech Acrylics® 2015 Hot Tub palette is all about bringing calm back. "As the industry moves from the words and concept of hot tubs to spas, we have updated the aesthetic to fit", shared Christy Stadelmaier, Aristech Surfaces LLC's Designer. "With relaxation and wellness as today's top priority, we have added more soft and contemplative neutral colors that coordinate with today's spa spaces, whether at home or at a destination spa. The textures were selected to be soft and calming as a balance to today's hectic and hyper-connected world."
Take a look at our new 2015 Hot Tub catalog or click here to browse our products and be inspired to make your own haven of peace.
Soak or Steam with Caution
Be sure to check with your doctor if you have any heart condition before spending time in a hot tub, sauna or Turkish bath.
For more information and high-resolution images:
Nicole Menkhaus
Global Marketing Manager
Aristech Surfaces LLC
+1-859-538-4919
nmenkhaus(at)aristechsurfaces(dot)com