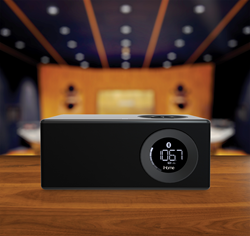 RAHWAY, NJ (PRWEB) November 19, 2014
As holiday travelers start hitting the road and festive songs fill the air, iHome's lineup of digital speakers and headphones deliver every note in crystal clear clarity. From iPhone 6-inspired products to noise-cancelling headphones, iHome has a gift for every wish list.
Top-Shelf Speakers
iBN10 Four Speaker Executive Music Station: a sleek, streamlined Bluetooth-enabled digital music station with four dynamic speakers for uncompromised sound. Near Field Communication (NFC) allows for simple one-touch pairing with a device, while a USB port provides the ability to charge other devices and never run out of juice while wirelessly streaming music from iOS, Android or Blackberry units. MSRP: $119.99
iDL46 Dual-Charging Clock Radio: to coordinate with the launch of the iPhone 6, iHome's #1 selling Lightning Dock is now available in limited edition gold for the holidays. The fully loaded yet compact clock radio can play and charge an iPad, iPhone or iPod via the Lightning dock or through the USB port. MSRP: $99.99
iBT28 Color-Changing Alarm Clock: this Bluetooth-enabled alarm clock features a translucent five-color LED cabinet and display to match any mood or décor. Four color modes and four wake up modes add excitement and color to music. MSRP: $69.99
iBN6 Waterproof Bluetooth Stereo Speaker: the perfect gift for lovers of the great outdoors. Whether tailgating, camping or hitting the beach, the NFC and Bluetooth speaker is never afraid of the elements thanks to its waterproof rating and durable metal speaker grills. An integrated bottle opener brings some holiday cheer everywhere the iBN6 goes. MSRP: $119.99
Head of the Class Headphones & Earbuds
iHome FIT: both the iB11 2-in-1 Sport Earbuds] and iB14 Foldable Behind the Neck Sport Earphones offer active sports enthusiasts and runners comfortable listening while exercising or on the go, in two sturdy constructions that will appeal to all regardless of style preference. MSRP for both units: $24.99
iB85 Bluetooth Wireless Headphones: super cushioned, super comfortable, these headphones provide hours of power and are perfect for holiday air travel and road trips. Built-in mic allows allows wireless phone calls and a remote control on the ear cup puts track control, play/pause, answer/end calls and volume control within easy reach. Foldable headband makes storing it in the travel pouch a snap. MSRP: $119.99
iB75 Bluetooth Earbuds are one of the smallest sports Bluetooth earbuds on the market, making it a truly innovative product. Enjoy rich, detailed sound with enhanced bass response, without inconvenient cables and cords as the earpieces are connected by a flat cable for tangle free use. Water resistant finish for outdoor use in any weather. Built-in mic allows wireless phone calls and a remote control on the earpiece puts track & volume control, play/pause and answer/end calls within easy reach. MSRP: $99.99
iB50 Noise-Cancelling Headphones: iHome's top seller is the complete headphone package for frequent flyers, commuters and other headphone audiophiles. Active noise cancellation circuitry silences intrusive sounds, while the super-padded headband and ear cushions make these a delight to wear. Includes important extras such as airline adapter and travel pouch. MSRP: $59.99
iB18 Noise-Isolating Metal Earphones: available in 5 colors, the durable high gloss metal housing and multicolor ear cushions make way for fashion and comfort. Perfect for tablets, laptops, cell phones, portable game devices, tablets, and MP3 players. In-line mic is compatible with most mobile phones. MSRP: $24.99
About iHome
iHome was established in 2005 as a division of SDI Technologies to develop and market audio products for portable smart devices. The first iHome product introduced, the iPod Clock Radio, was an exceptional success that became the top-selling iPod accessory for the year, and firmly established iHome as the premier brand in the iPod electronics market. Since then, iHome continues to be the #1 brand in digital audio according to NPD data* and has been at the forefront of design with a growing lineup of award-winning audio products that includes alarm clocks, clock radios, portable and home speaker systems, and headphones, as well as a new licensed line of mobile device accessories.
Acknowledged for its innovative features, unique designs, and advanced technology, iHome has garnered several prestigious industry awards including CES Innovations Awards, numerous Editor's Choice and Red Dot design awards.
iHome's products can be found worldwide in over 70 countries or on the web at http://www.ihomeaudio.com, on Facebook (facebook.com/iHome), or follow @iHome on Twitter .
*Source: NPD Digital Player Speakers category, 12 months ending September 2014.