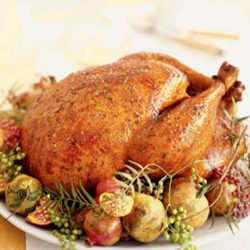 (PRWEB) November 17, 2014
For households that wish to reduce their holiday stress this year, Bellport is offering two Thanksgiving meal services:

The fully-loaded Thanksgiving sit-down dinner at the club itself, which includes the full arsenal of traditional essentials: a 20-pound turkey, gravy, homemade stuffing, mashed potatoes, candied yams, fresh Cape Cod Cranberry dressing, locally-made pies, and more. Known for its breathtaking views, the club overlooks the Great South Bay and the perfectly manicured Bellport golf course.
Those who want to enjoy dinner at home without the hassle can enjoy a gourmet Thanksgiving-to-Go, which includes all of the above in portions that feeds 12 to 15 guests. The to-go meal comes oven-ready and is freshly-made to order.
In addition to the suite of public holiday parties offered during the holiday months, Bellport Country Club will also be available to host private holiday events throughout the winter, offering packages for every kind of holiday event. Both family and corporate events can be fully accommodated, with 10,000 square feet available for large gatherings and several smaller break-out rooms available. The club recently renovated several areas within its large catering facility in order to better accommodate business and professional events. With a total capacity of over 300 guests, the club's newly launched Executive Suites are designed for meetings, seminars, lectures and large corporate events.
Interested parties may contact Bellport Country Club at (631) 286-4227 for more information and availability about corporate events and other catering services.
About Bellport Country Club:
Not your typical catering hall, the Bellport Country Club is an owner-operated, full-service restaurant and catering facility. Bellport Country Club's experienced staff are acclaimed for their start-to-finish wedding hosting and planning services. The Club was recently awarded WeddingWire's 2014 Couples' Choices Award in multiple categories and The Knot's "Best of Weddings 2014" in the Venues category and LI Weddings.com "Best of Weddings for 2014."
With an owner on-site seven days a week, Bellport Country Club looks to build a lasting relationship with all of its guests. Whether you want an elegant seven-course meal or a casual buffet, a corporate retreat or an intimate family gather, Bellport Country Club's team of culinary experts is ready to design and prepare a menu that showcases the freshest local ingredients.