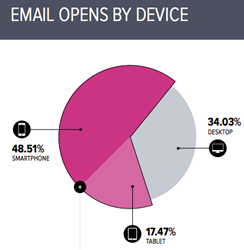 sending responsive email is no longer a luxury, but a necessity to success
New York, NY (PRWEB) November 18, 2014
Movable Ink, the leader in dynamic email marketing, announced the latest findings from the Q3 2014 U.S. Consumer Device Preference Report today. The quarterly report provides deep insight into the popularity of device usage, examines differences in consumer engagement, and shows how device preferences vary across the nation. Unlike other studies, this data set includes results only from large enterprise B2C marketers.
The Q3 edition strongly confirmed that U.S. consumers prefer to use their smartphones to read email, with the device accounting for 48% of all email opens. By geography, 34 states prefer mobile devices for email over desktops. The Q3 2014 report also broke down how consumers engage with email across verticals ahead of the 2014 holiday shopping season. Analyzing preferences by vertical revealed a different story, where retail was mobile heavy, but finance and automotive was desktop heavy.
"The U.S. Consumer Device Preference report confirms that sending responsive email is no longer a luxury, but a necessity to success," said Vivek Sharma, Co-Founder and Chief Executive Officer of Movable Ink. "Mobile devices continue to outpace desktops as the preferred device for email, putting an emphasis on responsive email for holiday. We are excited to help our clients convert more mobile traffic than ever this holiday season with our new Responsive Design Tools that are live within agileEMAIL and our free hosted email design tool Inkbrush."
Key findings include:

New to the report for Q3 is how consumer behavior and device preference varied by vertical. Longer email read lengths were seen when consumers preferred desktops and shorter read lengths occurred when consumers preferred smartphones in a particular vertical.
Tablet use picked up again during the quarter, gaining 1% of email opens at the expense of desktop computers, as well as accounting for almost 40% of opens during prime after work hours.
Apple's iOS devices continued to widen its lead over Google's Android devices. iOS devices accounted for 59.4% of all emails opened while Android accounted for 6.1%. However, Android users stay engaged longer with email.
The full report is available as a free download here.
About the Movable Ink "U.S. Consumer Device Preference Report: Q3 2014"
The US Consumer Device Preference Report is based on data collected through Movable Ink's agileEMAIL platform between July 1, 2014 – September 30, 2014. They reflect aggregate statistics across Movable Ink's customer base, which includes more than 200 enterprise B2C & B2B marketers from the retail, travel, financial, media, and telecommunication industries. Because determining email opens requires images to load, the percentages for some devices might be over or underrepresented.
About Movable Ink :
What happens in the moment influences how we act, and how we remember it. Shouldn't marketing do the same thing? Movable Ink enables brands to market in the moment with real-time digital content delivered at scale in email. Hundreds of innovative brands such as Airbnb, Ebay, Bass Pro Shops, and Finish Line have increased engagement, conversions, and ROI by using Movable Ink's agile marketing solution to plan, create, and execute campaigns that adapt to each individual consumer the instant they engage. The company is headquartered in New York City with an office in London. For more information, please visit http://www.MovableInk.com.
Media Contact:
Laura Chau
917-398-4158
lchau(at)movableink(dot)com