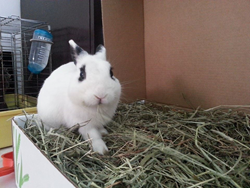 Feedback from customers highlighted the fact that on occasion, 'super picky' pets might benefit from different cuts of timothy hay.
Louisville, KY (PRWEB) November 17, 2014
Over the past 2 years, Small Pet Select has grown to be the leading online provider of timothy hay for small pets thanks to the outstanding quality of nutrition their products provide. Due to popular demand, the company has released some new products in their hay categories, and now provide 1st, 2nd and 3rd cutting timothy hay.
Feedback from customers highlighted the fact that on occasion, 'super picky' pets might benefit from different cuts of timothy hay. While the most popular hay for small pets tends to be 2nd cut timothy hay, there are times when 1st and 3rd cut hay might be more suitable.
Harvested at different times of the year, the feel and taste of the three different cuttings are quite remarkable. As the names suggest, 1st cutting is harvested earliest in the year, followed by the 2nd cutting and then the 3rd. The 2nd cut of timothy hay is generally the type most small pet owners feed. This is thanks to the ideal amount of nutrition it provides; high in fiber and low in protein, it is exactly what small pets need to remain in the best of health.
However, in some cases pets might prefer a harder, more coarsely textured hay, which is exactly what the 1st cutting provides. A lot of small pet owners report great success in mixing a little 1st cut timothy hay in with their regular 2nd cut to provide pets with variety in their diet. The nutritional content of 1st cut timothy hay is similar to the 2nd cut, although it is a little higher in fiber and slightly lower in protein. If pets enjoy eating 1st cut, it provides an even more dedicated workout for their teeth as they chew – essential for keeping the pet's teeth ground down and in good shape.
3rd cutting timothy hay is softer and leafier than both the 1st and 2nd cut. It is also more of a challenge to produce, as it is harvested very late on in the year. Inclement weather at this time means that it is harder to produce a good quantity of 3rd cut timothy hay. However, when you get a good quality 3rd cutting, such as that provided by Small Pet Select, it can be just what some owners find super picky pets enjoy eating. Good quality 3rd cut is very soft and leafy, with virtually no stems at all. For pets that don't enjoy a coarse hay, 3rd cutting timothy hay can be a way to ensure that they get enough fiber in their diet on a daily basis. Feedback has shown that many Small Pet Select customers feed this hay with great success to pets that don't seem to enjoy eating coarser hays.
All three of these timothy hays are available in multiple sizes ranging from 5lbs all the way to 60lbs. Ordering is done online and only takes a minute or so to complete. The hay is then delivered directly to the customers' door.
Discover more about the different hays provided from Small Pet Select, and how pets can benefit from being fed hay from the leading online provider of hay in North America today.
About Small Pet Select
Small Pet Select is a web based company specializing in premium quality hays and pellets for small animals. With regularly updated blogs dedicated to different species of small animals, including rabbits, guinea pigs and chinchillas, the site offers a place for both novice and experienced animal lovers to read both educational and fun articles about their favorite animals. The team at Small Pet Select are fervent in their desire to provide small pet owners with the ability to have a reputable and reliable source of top quality timothy hay for their pets, as well as providing a second to none service, with the convenience of online ordering and home delivery.