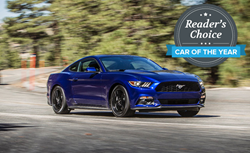 "With power, poise, handling and refinement, this is the best all-around Mustang ever," wrote Road Test Editor Mike Schlee.
(PRWEB) November 14, 2014
Giving readers a choice to voice their opinion on which new car is the best, AutoGuide.com polled its readers as well as the over 30 million members of the 400+ AutoGuide Group forums, who responded by picking the all new Mustang as their car of the year.
The news came as little surprise to AutoGuide's team of editors, who tested the new Mustang earlier this year. "With power, poise, handling and refinement, this is the best all-around Mustang ever," wrote Road Test Editor Mike Schlee.
Chosen from a crop of 10 finalists the Mustang beat out top sellers, European luxury sedans and even other performance cars, to claim the reader's choice award. This is the third year the award has been presented.
"Congratulations to everyone involved with the new Mustang and to the entire Ford team," said AutoGuide.com Editorial Director Colum Wood. "I'm not at all surprised. From the new independent rear suspension, the EcoBoost engine option, aggressive styling and modern interior, Ford has continued to evolve the Mustang into a world-class sports car."
"I'm excited at the response from AutoGuide readers and from our vast forum community," Wood continued. "Social media, continued to play an increasingly large role in engaging readers to get involved and have their say."
With seven different vehicle categories voted on in the 2015 AutoGuide.com Reader's Choice Car of the Year Awards, Ford also took home top honors in the trucks category with the 2015 F-150 being named the Reader's Choice Truck of the Year.
Winners in the remaining Reader's Choice categories include the Jaguar F-Type Coupe for Sports Car of the Year, the Subaru Outback for Utility Vehicle of the Year, the Cadillac Escalade for Luxury Utility Vehicle of the Year, the Mercedes S-Class Coupe for the Luxury Car of the Year and the BMW i8 for the Green Car of the Year.
About AutoGuide.com
AutoGuide.com, a VerticalScope property, is a car shopping consumer resource site and flagship of the AutoGuide.com Group comprising over 400 vehicle and manufacturer online community websites. According to independent audience measurement agency, comScore Media Metrix, the AutoGuide.com Group ranks first in multi screen and mobile monthly audience size among all automotive resource websites.