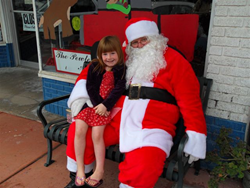 Duncan, OK (PRWEB) December 10, 2014
Downtown Duncan will be full of good cheer as the annual Christmas Parade makes its way down and around the historic Main Street district. This year's theme is "A Christmas Story," the 1980's film about a lovable 9 year old boy named Ralphie who tries to convince his parents, his teacher, and Santa that a Red Ryder B.B. gun really is the perfect gift for Christmas.
A founding member of the State and National Main Street programs since 1986, Main Street Duncan's mission is to preserve the heritage of the Downtown Duncan Historic District, which includes 7th to 11th streets from Oak to Willow. Main Street Duncan's mission is to protect and promote the history of Duncan and the historical architectural heritage of the city while encouraging restoration and new businesses to locate in the Downtown Duncan Historic District as the continued revitalization and beautification of the Downtown area attracts more tourists and consumers.
Main Street Duncan's program of work includes events that bring visitors to the historic district. More information about Cruisin' the Chisholm Trail Car Show, the Boo Review, the Holiday Stroll and the upcoming Christmas Parade can be found at http://www.duncancalendar.com.
There are currently 42 Main Street programs in Oklahoma. For more information please contact Main Street Duncan at 580-252-8696 or The Duncan Convention and Visitors Bureau at 1-800-782-7167.