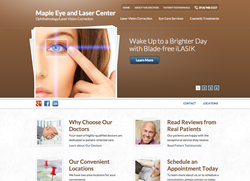 "The entire team at Maple Eye and Laser Center is excited about launching this new website. It's a great step forward, and it conveys the practice's values regarding patient education and advanced technology." - Dr. Howard Kornstein
White Plains, NY (PRWEB) November 17, 2014
Maple Eye and Laser Center is pleased to announce the launch of a new website that has been revamped and redesigned by Einstein Medical. This updated website has enhanced the practice's overall web presence, providing a bold new look as well as improved features that enhance the viewing experience. Whether patients visit the White Plains or Manhattan office, the new website will help them make informed decisions about their eye care options and vision needs.
"The entire team at Maple Eye and Laser Center is excited about launching this new website," said Dr. Howard S. Kornstein. "It's a great step forward, and it conveys the practice's values regarding patient education and advanced technology."
A New Look and Feel for Maple Eye and Laser Center
Thanks to the redesign, the entire website has been given a modern facelift. Contemporary layouts and fonts have been used, as well as a much livelier color scheme and imagery. The visual dynamism of the new website brings everything about the practice to life online.
"The new design helps convey the idea that we are a modern eye care center that uses the latest technology and techniques to help our patients," Dr. Kornstein noted.
More Information
In addition to revamping the look of the website, Maple Eye and Laser Center has added ample content that details the various services offered at the practice. This includes detailed pages about blade-free custom LASIK and other laser eye surgery procedures, an overview of additional eye care services such as cataract surgery and treatment for glaucoma, and even information on cosmetic injection procedures such as dermal fillers and BOTOX® cosmetic.
An Intuitive Navigation Experience
One of the most important aspects of the new website is how intuitive it is for modern browsing. The website can be viewed on various platforms with ease. Office hours and contact information are visible on every page. It's easy for patients to locate the information they are looking for by using the navigation buttons at the top of every page or the links located at the bottom of every page. Additional links have been placed in the written content to improve the navigation experience.
"Current and prospective patients will have little trouble finding the info they're looking for," Dr. Kornstein said. "If they're unable to find the information on the site itself, they can easily get in touch with us and we'll be happy to address their concerns."
A Presence on Social Media
The new website also provides links to Maple Eye and Laser Center on different social media platforms, including Facebook, Google+, and LinkedIn. This allows for more interaction with the practice outside of the offices and the website. These are great ways to interact and engage with the team at the Maple Eye and Laser Center and learn more about the latest news at the practice.
"Social media gives patients more opportunities to reach out to us and more opportunities for us to reach out to patients," Dr. Kornstein said. "That gets to the heart of the matter with this website redesign: every improvement has ultimately been done with our patients in mind."
Learn More about Maple Eye and Laser Center
For those who wish to contact Maple Eye and Laser Center to schedule an appointment, they are encouraged to contact the practice directly. Contact information for the White Plains and Manhattan offices have been included below, and interested parties can also contact Maple Eye and Laser Center online using this link.
Westchester Office
61 Maple Ave.
White Plains, NY 10601
(914) 948-5157
Manhattan Office
20 E 46th St
New York, NY 10017
(914) 948-5157