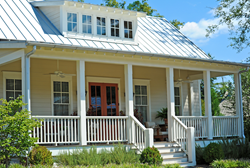 2013 Happiest Community of the Year Expands
Beaufort, South Carolina (PRWEB) November 15, 2014
It is time to 'ooo' and 'ahh' again over Coosaw Point on Lady's Island, Real Estate Scorecard's 2013 Happiest Community of the Year because one of the nation's most respected new home builders in town has teamed up with this waterfront community for a special surprise. Just recently, Coosaw Point announced the introduction of their new KHovnanian Homes Lowcountry Collection.
This is wonderful news because this beautiful Beaufort SC neighborhood is the ideal community to feature these spacious cottage homes. Here's why Real Estate Scorecard believes the news is the top headline for prospective homeowners, relocating retirees and even insurance companies in South Carolina.
The KHovnanian Company is a new home builder in the area, but the company is quickly earning a reputation in the town of Beaufort thanks to this new collection featured in Coosaw Point. They've already been building homes across America since 1959. The waterfront community and builder introduced six home designs that are attractive for families, couples and retirees interested in living in this Lowcountry real estate:
The Cypress - One story home with 3/2 baths at 2,222 sq ft priced at $399k
The Persimmon - One story home with 3/2.5 baths at 2,432 sq ft priced at $430,900
The Persimmon Loft - Two story home with 3 bedrooms/2.5 baths/loft at 3,103 sq ft priced at $454,900
The Myrtle - Two story home with 3 bedrooms/2.5 baths at 2,844 sq ft priced at $470,900
The Mulberry - Two story home with 3 bedrooms/2.5 baths at 3,360 sq ft priced at $469,900
The Poplar - Two story home with 3 bedrooms/3.5 baths at 3,392 sq ft priced at $489,900
The Sabal - Two story home with 4 bedrooms/3.5 baths at 3,795 sq ft price at $509,900
All of the designs' architecture compliment the natural surroundings of the terrain and were created in collaboration with the renowned Allison Ramsey Architects. The homes all have detached garages and optional upgrades.
Families of all ages can picture themselves on the porch of a KHovnanian home surrounded by old oaks draped in Spanish moss and groves of Palmettos at Coosaw Point on Lady's Island. Each design offers unique features. From vaulted ceilings to expansive closets, or a Butler's Pantry to a detached 2-car garage, this new home builder has found a way to create a spacious setting with any type of homesite. This quality is ideal for retirees relocating to low maintenance Beaufort SC neighborhoods, because the new home options will suit any Baby Boomer's lifestyle.
Other features that are offered from this KHovnanian collection include: two piece crown molding in dining and living rooms, granite counter tops, flashing around windows, wrapped porches, laundry room cabinetry, wood cased windows and doors and the list does not stop there. Eco-friendly options are available for those who want to do their part to preserve the environment and lower their bill from insurance companies.
The KHovnanian Homes Company is unlike other new home builders. The styles of homes exude a traditional southern charm combined with 'low country lifestyle at its finest' and what a better place to showcase it than at Coosaw Point. The Modern elegance shines through the windows with natural light, and the scenic views of the waterfront community make the lifestyle even more breath-taking. This new collection is just the newest highlight of an already established community, but Coosaw Point on Lady's Island deserves to be celebrated for everything it offers its property owners.
This popular retirement destination continues to attract folks from all around the country. It's no wonder why, because the residents enjoy some wellness amenities in a the charming coastal town of Beaufort. Unlike unplanned Beaufort SC neighborhoods, residents of Coosaw Point have access to:
COOSAW POINT AMENITIES
11,000 Square Foot River Clubhouse
Resort-style Outdoor Swimming Pool
Fitness Center
Two Lighted Tennis Courts
Community Parks & Dog Park
Community Boat Dock and Boat Ramp with 7 slips
Lakeside Pavilion with Outdoor Fireplace
Crab Shack for community events
Add in the picture-perfect scenery of the Lowcountry and it's no doubt a place to consider for retirement or to raise a family. Coosaw Point on Lady's Island is just 5 minutes away from downtown Beaufort. Could there be a better place to live? Residents can quickly enjoy the downtown cafes, art galleries and one-of-a-kind shops any time they like. The area is known for its unspoiled beaches at Hunting Island State Park, the monthly festivals and superior school systems. Families and retirees can both appreciate the safe community and the wide variety of town activities available for folks of any age.
New home builders will find it hard to compare to this year's KHovnanian Home Collection at Coosaw Point. Thanks to the classic home designs and innovative Green developments, insurance companies should be able to reduce the bill for retirees who decide to spend their Golden Years here or growing young families.
When folks travel to see Lowcountry real estate, be sure to see the 2013 Happiest Community of the Year and the KHovanian new home collection before purchasing property.
Call Coosaw Point direct at 843.522.0041 to schedule a tour.
About Real Estate Scorecard:
Real Estate Scorecard writes unbiased real estate reviews providing in-depth information about popular gated communities in Florida, Georgia, North Carolina, South Carolina and Tennessee, all in an effort to help people discover where to retire in the Southeast.
Website: http://realestatescorecard.com