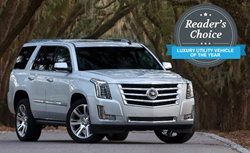 Associate Editor Craig Cole, "The new version of this heavy-hitting utility vehicle is more refined and upscale than ever, coddling passengers with a world-class cabin and entertaining drivers with a refined and vocally talented powertrain."
(PRWEB) November 14, 2014
Giving readers a choice to voice their opinion on which new car is the best, AutoGuide.com polled its readers as well as the over 30 million members of the 400+ AutoGuide Group forums, who responded by picking the all new Escalade as their luxury utility vehicle of the year.
Driven earlier this year by AutoGuide.com's team of editors, associate editor Craig Cole commented that "the new version of this heavy-hitting utility vehicle is more refined and upscale than ever, coddling passengers with a world-class cabin and entertaining drivers with a refined and vocally talented powertrain."
The Escalade is sold exclusively with General Motors' new Gen V 6.2-liter V8 and offers an interior that is significantly enhanced compared to the previous generation. In general, the materials are nicer than the previous generation with softer leather and the admittedly tepid CUE infotainment system. But a confusing infotainment interface didn't seem to matter the Escalade secured its place as the award winner in its category this year.
With seven different vehicle categories voted for in this year's Reader's Choice Awards, Ford took home two wins including the Truck of the Year for the F-150 and the Car of the Year for the Mustang. Winners in the remaining Reader's Choice categories include the Jaguar F-Type Coupe for Sports Car of the Year, the Subaru Outback for Utility Vehicle of the Year, the Mercedes S-Class Coupe for the Luxury Car of the Year and the BMW i8 for the Green Car of the Year.
About AutoGuide.com
AutoGuide.com, a VerticalScope property, is a car shopping consumer resource site and flagship of the AutoGuide.com Group comprising over 400+ vehicle and manufacturer online community websites. According to independent audience measurement agency, comScore Media Metrix, the AutoGuide.com Group ranks first in multi screen and mobile monthly audience size among all automotive resource websites.