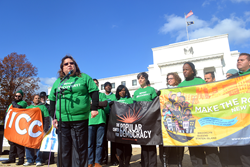 "I always followed the rules and did everything you should to succeed." Kendra Brooks, Action United, Philadelphia, PA
Washington, D.C. (PRWEB) November 14, 2014
Today, marking the launch of a new campaign to reform the Federal Reserve's policies and governance, three-dozen low-wage workers, faith leaders, community organizers, and economists from across the country will meet with Federal Reserve Chair Janet Yellen. The coalition driving "Fed Up: The National Campaign for a Strong Economy," comprised of twenty organizations, publicly released its priorities (http://bit.ly/1BorvbL) for Fed reform including a commitment to full employment, zero interest rate lending to cities and states, and reforms to the process for selecting regional Fed presidents at a press conference in front of the Federal Reserve this morning.
Spokespeople from community organizations, workers, faith leaders, policy experts, economists, and labor unions are available for interviews with the media, and statements for the media can be found at http://bit.ly/1sNq5gD. For more information on the campaign, visit http://www.WhatRecovery.org.
"Millions of working families are fed up with this economy. The Federal Reserve needs to commit to facilitating genuine full employment, with rising wages and good jobs for everybody," said Ady Barkan, of the Center for Popular Democracy, which is coordinating the campaign. "Today we are going to thank Chair Yellen for her leadership and urge her to implement important reforms that will ensure that the Fed policies serve the public interest."
"I always followed the rules and did everything you should to succeed," said Kendra Brooks, Organizer at Action United in Philadelphia, Pennsylvania. "I have an MBA and 15 years of management experience, and applied for every job I could, but still couldn't find anything for a year. I have a job now, but it pays half of what I used to make. According to the American Dream, if you work hard, you see the results. But that's not true anymore. Not in this economy."
The campaign's first priority reads: "The Federal Reserve should publicly commit to building an economy with genuine full employment…promising to keep interest rates low until the economy has reached full speed and is producing millions of new jobs and higher wages for workers across the economic spectrum." The 6 coalition principles include a call for a transparent and inclusive process for the selection of regional Fed Presidents, who, as part of the Federal Open Market Committee, set monetary policies that affect everyone in the nation.
Members of the Fed Up campaign delivered letters to the Fed last week calling for these reforms in the selection of replacements for Dallas Fed President Richard Fischer and Philadelphia Fed President Charles Plosser, who have announced their upcoming resignations.
"How can anyone say that we're reaching full employment when black unemployment is consistently double national unemployment?" said Reggie Rounds of Missourians Organizing for Reform and Empowerment, a community-based organization in St. Louis, Missouri. "If you're saying it's time to raise interest rates because we're at 'full employment,' you're saying that I shouldn't get a job. You're saying the people of Ferguson shouldn't get jobs. All communities—including black communities—deserve a recovery."
The campaign marks first time in decades that workers and community organizations will make a coordinated effort to influence Fed monetary policy, which is normally subject to influence only by banks and corporations.