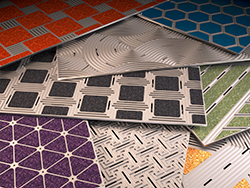 Muncy, PA (PRWEB) November 17, 2014
Construction Specialties Inc. (C/S), a leading manufacturer of high-performing architectural specialty products, today unveiled Floormations. This new concept in entrance flooring was created with designers for designers. The made-to-order, milled aluminum system enables entryway designs never before possible. Floormations can be manufactured in a broad spectrum of configurations, with or without carpet and recycled rubber inserts. The system gives designers and architects a rich palette of choices for creating a distinctive entrance.
Floormations was developed to enable architects, designers and facility managers to more affordably create high-design entrances that perform as well as enhance. It's being offered in easy-to-install panels with a maximum size of 34 inches by 119 inches. The system is available in standard recess or surface mounted configurations up to three-quarters of an inch deep. There are eight standard patterns available which can be modified to achieve unique designs. Inserts of recycled rubber in 60 colorways and/or carpet can be incorporated into the design as well. To help customers achieve their own unique creations, C/S offers the services of in-house floor design experts.
For over 40 years C/S has been offering the industry entrance mat, grid and grate systems that help to keep the interiors of commercial buildings clean and dry. Floormations has the same drying, cleaning, and dirt trapping properties as other C/S products, such as Pedimat, Pedigrid, GridLine and high-end Floorometry.
"Not only does Floormations bring unparalleled creative freedom to the design of an entrance floor, but this unique flooring works hard, too. Because Floormations is engineered to prevent dirt, debris and moisture from entering the building, it operates as functional art," said Lori Neitz, National Sales Manager. "We are proud to offer this visually striking flooring product."
For more information about Construction Specialties, visit their website.
About Construction Specialties
Construction Specialties manufactures and sells specialty architectural products internationally, with over 30 offices and manufacturing facilities worldwide. Its products include interior wall and door protection, entrance flooring, expansion joint covers, louvers, grilles, sun controls, explosion vents, smoke vents, and cubicle track/curtains. The company serves architects and designers, building owners, facility managers and contractors. Construction Specialties, Inc. was founded in 1948 and is headquartered in Lebanon, New Jersey.