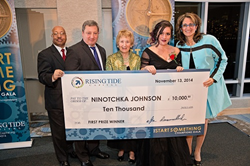 This year's Start Something Champions Gala recognized engines of our local economy from small business owners to national leaders in values-based business
Jersey City, NJ (PRWEB) November 17, 2014
Last Thursday, Rising Tide Capital kicked off Global Entrepreneurship Week—the world's largest celebration of innovators and job creators—by raising more than $260 thousand to support entrepreneurship development in underserved communities throughout New Jersey. In just three years, the Start Something Champions Gala has raised more than $1 million, providing scholarships for struggling entrepreneurs to receive business training through the nonprofit's nationally recognized Community Business Academy (CBA).
"This year's Start Something Champions Gala recognized engines of our local economy from small business owners such as first place winner of the 2014 Start Something Challenge Ninotchka Johnson to a national leader in values-based business like Whole Foods's Co-CEO Walter Robb who received the Market Maker of the Year award," said RTC co-founder and CEO Alfa Demmellash.
Hosted at the Hyatt Regency on the Hudson, Rising Tide Capital also honored The Paul & Phyllis Fireman Charitable Foundation, New Jersey City University and Numi Organic Tea, for their dedication to entrepreneurship, job creation, and commitment to sustainability in underserved communities. The three winners of the 2014 Start Something Challenge were also awarded $22,500 in cash to help build and strengthen their businesses.
"The Start Something Challenge helped me evolve from an artist into an entrepreneur," said Ninotchka Johnson, winner of the 2014 Start Something Challenge. "The process helped me perfect my business pitch and create a solid business concept and direction for the future. I also gained a support system, the 9 other finalists. They give helpful advice and understand the work and sacrifice it takes to be an entrepreneur.
The 2014 Challenge and Gala were underwritten by the JPMorgan Chase Foundation; The Paul & Phyllis Fireman Charitable Foundation; ADP; Citi Foundation; Wells Fargo Foundation; SILVERMAN; Ironstate Holdings; the Green Group; PNC Foundation; RBH Group; William E. Simon Foundation; Henry & Elaine Kaufman Foundation; The MCJ Amelior Foundation; New Jersey City University; The PIMCO Foundation; The Provident Bank Foundation; TD Charitable Foundation; The Schlesinger Family Foundation; Happy Family; The Robert and Marion Schamann Brozowski Foundation; Sheri Sobrato Fund – An advised Fund of Silicon Valley; Animoto and Morgan Stanley.
2014 Start Something Champion Honorees:
Whole Foods: Market Maker of the Year
Whole Foods Market, the world's largest natural and organic foods supermarket, received the 2014 Market Maker of the Year Award in recognition of its entrepreneurial vision and dedication to bringing fresh, organic food to inner cities through its Whole Cities Initiative, and its commitment to empowering its stores to become community anchors through investment in local entrepreneurs.
"Thank you so much for honoring Whole Foods as the Market Maker of the Year. We are proud to share our common values around supporting entrepreneurs in underserved communities with RTC. After taking the initiative to bring healthy food and healthy food education to inner city communities through Whole Cities, we realized that when you take a risk and follow a mission that aligns with your values you can create meaningful change in the world. This is the true definition of an entrepreneur," said Co-Chief Executive Officer Walter Robb.
The Paul & Phyllis Fireman Charitable Foundation: Award for Entrepreneurial Philanthropy
A family foundation based in Boston, the Paul & Phyllis Fireman Charitable Foundation received the Award for Entrepreneurial Philanthropy in recognition of their dedication to creating opportunities for underserved communities and for its innovative approach in harnessing the power of collaboration and social capital to address systemic issues such as homelessness.
"I am proud to be a part of the Jersey City community. Rising Tide Capital focuses on entrepreneurs that are creating businesses, giving back to the community and creating more opportunities. Entrepreneurship is one of those rare opportunities where someone can truly break through, succeed and empower others to be a part of their mission," said Trustee Dan Fireman.
Numi Organic Tea: Entrepreneurs of the Year
Co-Founders and siblings, Ahmed and Reem Rahim, were awarded as industry leaders in Fair Trade and Fair Labor practices in the multi-billion dollar tea industry. RTC honored their inspirational leadership and dedication to creating a healthful product that nurtures people and honors the planet.
"Rising Tide Capital inspires entrepreneurs to live their dreams and, more importantly, gives them the tools, training, and access to financing necessary to succeed. I feel inspired! It's a great honor to receive this award tonight. It means we've created something that has inspired others," said Ahmed Rahim, co-founder of Numi Organic Tea.
New Jersey City University: Entrepreneurial Educator of the Year
New Jersey City University was recognized as Entrepreneurial Educator of the Year for its commitment to building strong local economies and uplifting local entrepreneurs through incubator space, student internships, and public-private partnerships.
Rising Tide Capital (RTC) is a Jersey City-based nonprofit organization founded in 2004 by Harvard graduates Alex Forrester and Alfa Demmellash. RTC helps entrepreneurs start and grow successful businesses by providing a 12-week Community Business Academy—supplemented by year-round workshops, coaching and networking events. These programs are currently offered in Spanish and in English in four cities across Northern New Jersey: Jersey City, Newark, Union City, and Orange Township. As of January, 838 entrepreneurs have graduated from the CBA and together, they operate over 403 businesses in New Jersey. RTC's model of entrepreneurship development has received national recognition from President Obama to CNN Heroes.
To learn more, visit http://www.RisingTideCapital.org.
###