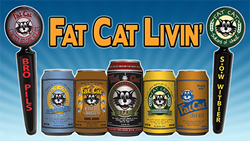 ...We are extremely pleased with our choice and are excited to work with Kelly Paul and her team at Republic National - Bruce Taub of The Fat Cat Beer Company, LLC
Washington, D.C. (PRWEB) November 16, 2014
The Fat Cat Beer Company, makers of "sessionable," handcrafted beer in cans and draft, announced its expansion into Washington, D.C.
After achieving significant traction in Northern Virginia, the San Diego-based company is crossing the Potomac and offering its beer to our Nation's Capital. The Fat Cat Beer Company, which was the 1st to offer craft beer in a can when its Vienna Lager made its can debut in 1995, currently offers five distinctly different craft beers in cans, including its Fat Cat™ Lager, Sultans of Wheat®, Shawshank's Injunction™ Pale Ale, Beale St™ Brown Ale and Confession™ IPA and recently released a 6th, Bro-ceanography™ Pils, in kegs.
"We have really made some significant progress in NoVA and now have the opportunity to expand our footprint into Washington, D.C. with minimal expense" offered Bruce Taub, CEO of The Fat Cat Beer Company. "Many of the customers we serve in NoVA have locations in D.C. and our NoVA based sales team has been active in the market, making the expansion relatively seamless. Settling on the right distributor fit was more difficult but we are extremely pleased with our choice and are excited to work with Kelly Paul and her team at Republic National", added Taub.
About The Fat Cat Beer Company, LLC
It is the business of The Fat Cat Beer Company, LLC to provide iconically packaged, handcrafted session beers that are complex in nature, but smooth in taste. Each Fat Cat Beer is brewed under its own proprietary statement of process and tested for quality assurance. Its Vienna Lager made its debut in 1995 and was the first craft beer in a can. Fat Cat beer is available in 4 states, including Georgia, Florida, Virginia and California and now in D.C. To learn more, visit http://www.fatcatbeers.com or follow them on Twitter, Instagram and Facebook and Session UP!™
About Republic National Distribution Company
RNDC is the second largest beverage alcohol distributor of premium wines and spirits in the U.S. Founded in 1898, RNDC has a rich culture founded on strong family-owned businesses coming together to create an extraordinary organization focused on providing high quality service in 20 states. Their Associates reflect this unique legacy through their commitment to excellence. As such, RNDC has an established history that defines us as the distributor of choice for the beverage alcohol industry.
© 2014 by The Fat Cat Beer Company, LLC. All rights reserved.