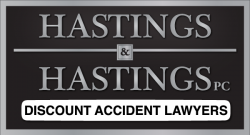 phoenix, az (PRWEB) November 19, 2014
Hastings and Hastings, a trusted and reputable Arizona personal injury legal group announces new demand in 2014 for legal representation associated with accidents and injuries in construction zones. With a steady increase in construction projects occurring on the roads and highways of America and throughout the state of Arizona there have been a growing number of accidents that result in injuries in these dangerous and hazardous areas. As such, many injury victims are looking for discounted legal representation as a way to achieve a favorable recovery in order to cover medical expenses and lost wages. Hastings and Hastings is a firm with more than 30 years of experience in the industry.
Offering auto accident personal injury legal services, Hastings and Hastings is a firm that has a combined total level of experience that exceeds well over 150 years. Handling virtually all types of personal injury cases, the firm boasts 11 strategically located and convenient locations for clients. Even those that have been injured to the point where they are unable leave their hospital bed or home can enjoy the benefit of working with Hastings and Hastings. The firm will dispatch a licensed attorney to a hospital or home as required so that clients can have access to discounted legal representation by a firm does not discounted service. Regardless of where a client is in the valley, Hastings and Hastings has a team of professional personal injury lawyers that can help.
With free consultations and a no fee promise, Hastings and Hastings has grown to become a reliable and trusted name in personal injury law throughout Arizona. Hastings and Hastings handles a wide range of personal injury cases including everything from bicycle accidents to motorcycle accidents and pedestrian accidents. In addition, dog bite related accidents as well as slip and fall accidents and accidents involving 18-wheelers and trucks are also routinely addressed by this Arizona personal injury firm. Saving clients substantially when it comes to retaining a larger portion of a recovery has been the hallmark of this firm for many years.
Hastings and Hastings offers detailed and exacting evaluations of cases so that clients known in advance what a claim will likely be worth. The firm also lets clients know that they should contact an attorney as soon as possible after they have been involved in accident that results in injuries. This is important because evidence can be lost, as witnesses' memories tend to fade over time. Considering each case based on liability and damages, the attorneys of Hastings and Hastings can provide clients with a good indication of what to expect in terms of a recovery and the potential for achieving a successful recovery. This recent announcement with regard to new demand in 2014 for legal representation associated with accidents and injuries in construction zones is further proof that Hastings and Hastings is dedicated to the best interests of its clients.
Hastings and Hastings is a leading provider of discount personal injury legal services located in and serving the greater Phoenix Metropolitan area. This respected legal firm specializes in assisting individuals that have been the victim of serious injuries that have resulted from accidents that were not fault of their own. Hastings and Hastings is a trusted group of attorneys that deliver personalized service and guidance for injury victims throughout Phoenix and all across the state of Arizona. Hastings and Hastings is known throughout legal circles as a dedicated team of professionals and a law firm that has been representing accident victims throughout Arizona for decades. Hastings and Hastings consistently exceeds client's expectations with regard to representing a wide array of accident related injury victims at times when it matters the most and always doing so with discount attorney's fees.