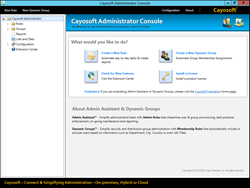 The Cayosoft solution is flexible and pointed directly at the Microsoft Hybrid Administration pains we had. And support has been incredible.Jason Kuhn, Server Systems Analyst.
Columbus, Ohio (PRWEB) November 19, 2014
Cayosoft at the California Educational Technology Professionals Association Conference, announced today that Manteca Unified School District used Cayosoft Administrator Suite to better provision and manage their hybrid Microsoft environment in support of the district's "Go Digital" student initiative. With Cayosoft Administrator, the District reduced the administrative and provisioning burden more than 90% through automating the tremendous number of manual changes needed as 26,000 students join, move within or graduate from the district. This project, completed in approximately one week, improved service levels for students and staff while allowing Manteca to fully exploit Microsoft's Student Advantage program.
"The Cayosoft solution is flexible and pointed directly at the Microsoft Hybrid Administration pains we had. And support has been incredible," said Jason Kuhn, Manteca Server Systems Analyst.
Manteca Unified School District, in central California, is one of the largest school districts in the United States, serving approximately 26,000 students plus faculty and staff in more than 30 different locations. This is the second year Manteca has provisioned Microsoft Office 365 for Students, on-premises Exchange for Teachers, and Active Directory (AD) for both in a true hybrid environment. Microsoft provides Manteca with Office 365 user accounts and downloadable Microsoft Office programs for students, but requires the school to create or update the associated accounts and licenses.
Cayosoft's Administrator Suite solution connects and simplifies Microsoft Hybrid Administration with the goal of improving service level delivered to users by giving administrators a single console connected to all of the platforms they manage. The Cayosoft console empowers administrators with a modern solution that enhances the management of the organization's Islands of Identity so that security, compliance, and efficiency objectives are met.
"Our unique architecture enables Cayosoft to connect our customer's on-premises and cloud systems, then simplify provisioning, access control, and administration with rule-based management automation. And we deliver it in one streamlined solution. " said Robert Bobel, CEO Cayosoft
Cayosoft Administrator comes with a fully functional 25-day trial license so administrators, help desk staff, and IT Managers can try the product for themselves by downloading the product from Cayosoft.com/download/. After the free trial, subscription, perpetual, and freeware licenses are available. For more information visit the Cayosoft Administrator Product Page or you can request a one-on-one demonstration.
About Cayosoft - Cayosoft® builds modern software solutions that connect and simplify an organization's Islands of Identity starting with Microsoft's Active Directory and Office 365. Unlike legacy user administration or Identity Management platforms that pre-date Cloud & Mobile initiatives, Cayosoft's solutions are designed with providing on-premises, cloud, and hybrid administration solutions in mind. Cayosoft and Cayosoft Administrator are registered trademarks of Cayo Software, LLC.
Media Contact
Preston Gove
Cayosoft
United States
U.S. Toll Free: +1-866-848-5350
International: +1-614-423-6718
Preston.Gove(at)cayosoft(dot)com