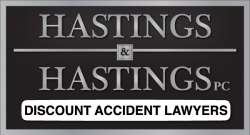 Phoenix, AZ (PRWEB) November 20, 2014
Hastings and Hastings, a law firm in Phoenix, Arizona, that handles a wide variety of personal injury cases announces new demand for parking lot/pedestrian related accident injury representation in 2014. Statistics have shown that across the country and within the state of Arizona that there has been a noticeable increase in accidents occurring in parking lots where pedestrians are struck by an automobile, truck or other type of vehicle. With that said, a growing number of injury victims are seeking experienced and focused personal injury legal representation that is made available at a discount rate. Hastings and Hastings offers discounted fees on legal representation with the services never being discounted.
Working strictly on a contingency basis, a Hastings and Hastings attorney's fees are earned only if a recovery is successful. Most importantly, the firm guarantees that if there is no settlement or recovery that there are simply no fees due by the client. It is this added peace of mind that allows injury victims to proceed confidently in attempting to recover losses associated with injuries that are the result of another individual's negligence. Discount attorney's fees that are less than traditional attorney's fees simply mean that clients are able to retain a greater portion of their recovery. This plays an important role in helping injury victims recover faster and enjoy a more normal way of life.
In addition, Hastings and Hastings works with each client to assess a case in order to determine the actual value. Because each case is different and each accident and associated injuries are unique and different, it is important to have a case carefully evaluated prior to initiating any type of legal action. Compensation is usually centered on pain-and-suffering, medical bills and lost wages. An attorney can provide a client with a reasonably good estimate with regard to what a case should be worth in terms of achieving a recovery. Going forward, clients can then know what to expect in terms of having financial resources to deal with lost wages and medical care.
While a recovery is never guaranteed, clients who choose to take quick and decisive action with regard to hiring an attorney often have a far better chance of gaining a recovery to offset medical costs, pain and suffering and lost wages. Other considerations that must be taken into account include the statute of limitations. This is another situation where each case is unique and as such the statute of limitations may vary. This recent announcement with regard to new demand for parking lot/pedestrian related accident injury representation in 2014 is additional proof that Hastings and Hastings is dedicated to providing clients with focused and dedicated services at discounted fees.
Hastings and Hastings is a leading provider of discount personal injury legal services located in and serving the greater Phoenix Metropolitan area. This respected legal firm specializes in assisting individuals that have been the victim of serious injuries that have resulted from accidents that were not fault of their own. Hastings and Hastings is a trusted group of attorneys that deliver personalized service and guidance for injury victims throughout Phoenix and all across the state of Arizona. Hastings and Hastings is known throughout legal circles as a dedicated team of professionals and a law firm that has been representing accident victims throughout Arizona for decades. Hastings and Hastings has consistently exceeded clients' expectations with regard to representing a wide array of accident related injury victims at times when it matters the most and always doing so with discount attorney's Fees.