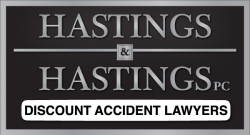 Phoenix, AZ (PRWEB) November 22, 2014
Hastings and Hastings, a discount accident attorney in Phoenix Arizona with decades of experience announces providing clients with the option of leaving an online review using Google +. The firm offers clients a flexible, intuitive and easy to navigate website that has recently been redesigned. This combined with having access to Google + allows clients to research the Hastings and Hastings law firm in order to make a more informed decision when retaining an attorney. Those who have been injured through no fault of their own or due to the negligence of another individual understand the importance of acting quickly when it comes to filing a claim.
That is why it is so important to have access to an experienced law firm that has a clear and easy to understand website. Hastings and Hastings offers genuine and realistic discount personal injury legal representation fees without discounting the service. The firm has multiple attorneys in multiple offices throughout the greater Phoenix metropolitan area making it geographically convenient and easy for clients to access legal representation that they desire and deserve. Hastings and Hastings is also a proud partner of the Special Olympics in Arizona and stays actively involved in the community. With a proven reputation and a dedication and commitment to providing clients with focused legal representation, the firm has earned a respected reputation one client at a time.
The firm is helped literally thousands of clients over the last 30 years achieve favorable results with regard to gaining a recovery after having been involved in an accident. Those who have been injured because of someone else's mistake or error stand to gain the most in terms of a recovery by moving quickly with regard to legal action. Hastings and Hastings began as a two-attorney firm and has since grown over the decades to become a large law firm in Arizona with multiple offices throughout the region. This provides for added flexibility so that clients have more choices when it comes to meeting with an attorney after they have been injured in an accident.
Hastings and Hastings offers free consultations with a licensed attorney. This is in contrast to other firms that often assign a paralegal or salesperson to a client for consultation purposes. Most accident victims would agree that nothing can replace talking with an actual licensed attorney when preparing to file a claim. Hastings and Hastings is known for its leadership, compassion, integrity and advocacy. The firm stands behind its promise of providing discount attorney's fees without discounting the service. This recent announcement with regard to providing clients with the option to leave an online review using Google + is further proof that Hastings and Hastings is dedicated to making the most of modern technology to help clients achieve their desired goals and objectives.
Hastings and Hastings is a leading provider of discount personal injury legal services located in and serving the greater Phoenix Metropolitan area. This respected legal firm specializes in assisting individuals that have been the victim of serious injuries that have resulted from accidents that were not fault of their own. Hastings and Hastings is a trusted group of attorneys that deliver personalized service and guidance for injury victims throughout Phoenix and all across the state of Arizona. Hastings and Hastings is known throughout legal circles as a dedicated team of professionals and a law firm that has been representing accident victims throughout Arizona for decades. Hastings and Hastings has consistently exceeds client's expectations with regard to representing a wide array of accident related injury victims at times when it matters the most and always doing so with discount attorney's Fees.