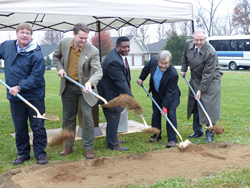 Joining the program at this early stage will give you a wider choice in the finishes of your home, as well as the possibility to add a sunroom or a den to the basic floor plan
New Oxford PA (PRWEB) November 16, 2014
Cross Keys Village held a groundbreaking ceremony on Thursday, Nov. 6, to begin expansion of its Bridgewater section of premium retirement "Country Homes."
Seventeen new homes will be built as part of this first phase of the expansion, and commitments are in hand for 12 of them. The models, named after notable figures in the Church of the Brethren's past, are the 1,750-square-foot James Quinter and the 1,628-square-foot Daniel Leatherman. The first phase of homes was 80% pre-sold by the time the ceremonial shovels hit the ground.
The new homes were designed to meet needs identified in a detailed marketing study. They join the existing Country Homes on Bridgewater Drive and represent the first of three phases of expansion in the Bridgewater area of campus. They were designed by the architectural firm SFCS and will be built by JS Construction, Inc., which has done considerable work on campus over the past decade and earned high marks for quality.
Oliver Hazan, Vice President of Sales and Marketing, explained the role the new homes will play for CKV. "While many older adults choose to make their move to a senior living community coincide with a more general downsizing and divesting, doing so is not the only way to go," he said. "We also hear regularly from retirees who would like to take advantage of everything that a modern and vibrant CCRC like Cross Keys Village has to offer . . . without having to downsize too much if at all."
"We do have a few Country Homes still available for reservation in both the Quinter and the Leatherman floor plans," Hazan noted, "Joining the program at this early stage will give you a wider choice in the finishes of your home, as well as the possibility to add a sunroom or a den to the basic floor plan."
Cross Keys Village – The Brethren Home Community is located at the intersection of U.S. 30 and PA 94 (Cross Keys), less than two miles east of New Oxford's town circle. The Harmony Ridge Community Center and Apartments are best accessed by the Village Drive entrances on U.S. 30 or PA 94.