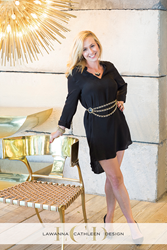 San Francisco, CA (PRWEB) November 17, 2014
Lawanna Cathleen Turner, principal designer of Lawanna Cathleen Design, offers her expert holiday styling services to the public for the first time. Normally reserved for her private interior design clients, the San Francisco-based designer is available for a range of custom styling. Her expertise include stunning floral, tree, and wreath design, festive seasonal home decor, and fabulous holiday tablescapes.
Lawanna Cathleen brings a decade of principal design expertise and an impressive pedigree to her seasonal styling offerings. Lawanna is the youngest designer ever to be featured on the cover of CA Homes magazine, and she has worked with a range of clients, from glamorous fashion designer Jessica McClintock to modern Silicon Valley CEOs. Various Lawanna Cathleen Design projects can be spotted around the globe, including Carmel Valley, Napa Wine Country, Los Angeles, Missouri Ozarks, and London.
Interested parties are invited to contact the designer via email at lc(at)lawannacathleen(dot)com to set up a two-hour holiday styling initial consultation, priced at the reduced rate of $250.
In addition to holiday styling, Lawanna is also thrilled to announce that she is selected to participate in this year's Jingle & Mingle Designer Wreath Auction, featuring wreaths from some of the West Coast's top designers in a festive holiday setting. In honor of this year's Great Gatsby theme, Lawanna will be presenting a Chrysler Building-inspired creation that promises to wow among a collection of designer wreaths.
Slated for Thursday, December 4th from 6:30pm until late at The Presidio's Golden Gate Club, Jingle & Mingle benefits Children of Shelters (COS), a San Francisco based 501c3 nonprofit organization working to provide support and education for children living in or being served by the homeless shelter system. Lawanna's wreath will help provide unique educational opportunities, cultural experiences and enrichment activities for children.