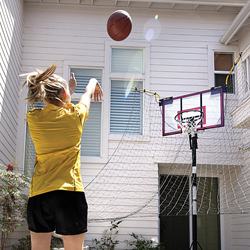 "Your product was truly the "difference maker" in Kelsey's high school basketball career."--------------"Your product was instrumental in her progress and helped develop her as a player to be celebrated and feared. Entire teams game plan for her now. "
(PRWEB) November 18, 2014
The SKLZ RAPID FIRE II returns both made and missed shots to a basketball shooter from anywhere on the court. After a basketball player learns proper shooting form, repetitive shooting using the SKLZ RAPID FIRE II will help develop the muscle memory needed for them to become a better shooter.
By adjusting the angle of the arms that support the net and the position of the bases, the SKLZ RAPID FIRE II can be used to practice shots from any area of the court including baseline shots. Also when you are done with your shooting practice, you can quickly move everything off the court out of the way and play a game.
SKLZ RAPID FIRE II is the most affordable basketball return system available that returns both made and missed shots to a shooter. Per USA TODAY's Steve Strauss- "As simple as it is ingenious, the best basketball practice product in the country". It features improved performance for better ball return to shooters and a lower suggested retail price of $119.99. Also, it is being shipped in a smaller more compact box which will enable more stores to carry the product.
The SKLZ RAPID FIRE II is currently being sold online at Pro Performance Sports' website- http://www.SKLZ.com for $119.99. To get an additional 15% off all SKLZ brand products (SKLZ RAPID FIRE II only $101.99), customers can use the banner links on Sporting Advantage Inc.'s website- http://www.shootANDstar.com .
Glenn Hudson, President of Sporting Advantage Inc., was touched by the below letter from a very satisfied customer. Hudson commented- "As an inventor of a product, the best feeling in the world is to receive a message from a very satisfied customer where your invention has helped them to overcome a difficult situation and to achieve fantastic success." -
Glenn,
I just wanted to say congratulations on your progress with your Rapid Fire system. Your product was truly the "difference maker" in Kelsey's high school basketball career. But with any story, there is a story within a story, and now probably a good time to share it with you.
In her 7th grade year, Kelsey was intentionally injured in a travel ball game. The opposing coach cheated by inserting high school players (big players) against our 7 grade girls. Two of those girls trapped Kelsey and bent her over backwards until she went down hard. She fractured her L5 vertebrae in three places. A melee broke out and the police responded. After three months of deteriorating condition, doctors were not sure if she would not play again or even if she should. Kelsey wanted to play.
After years of therapy and much pain, she battled back to play again. It is true though, she was not the same player and has never regained that top speed she once had, yet she still wanted to play and compete at a high level. So, while sitting the bench during her long recovery periods, when contact and running were prohibited, she used your product and worked on her shot.
She approached it like a science, perfecting her form, stroke, rhythm, etc, through repetition. Eventually, she progressed to adding jumps and moves that developed into a lightning fast release. She actually studied the shooting styles of Ray Allen, Shawn Battier, JJ Redick, Becky Hamond and many more. She learned that when it came to shooting, a good three point shoot could be an equalizer.
Soon, with your product we had shoot outs in our front yard and laughing, we installed one your systems in our pool to protect our screens. Pool shootouts were also common, again helping to develop the shooting abilities of many young players. As shooting work progressed, so did her game at every level.
Your product was instrumental in her progress and helped develop her as a player to be celebrated and feared. Entire teams game plan for her now.
We just wanted to say thank you for giving her a second chance, and at a price that any family can afford. I wish you and your company a wonderful year. Please tell your team how much we appreciate their efforts for helping our daughter succeed. Knowing now the story, within the story, you understand the reason for our celebration and for our appreciation for you, your team and your product.
Thank you again.
Gordon, Teresa and Kelsey Angus
See attached YouTube video of Kelsey Angus's shooting capabilities in games (above right)
NOTE: Here are some comments by proud parent Angus Gordon about that video- "Kelsey demonstrating her quick release and accuracy from beyond the 3 pt. line. With defenders usually glued to her, she shows that contested shooting is one of her specialties, striking fear in any defender that wants to cheat the D or blink an eye."
Hudson commented- "I am excited that Pro Performance Sports is providing an even more affordable version of the SKLZ RAPID FIRE for basketball players who want to become better shooters. My goal is to help as many basketball players as possible. I appreciate the efforts of everyone at Pro Performance Sports in helping my vision and dream to come true." The SKLZ RAPID FIRE II is currently available for sale online, as described above, but will not be available for sale in most stores until 2015.