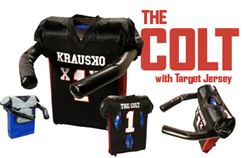 "The realism and ability to practice at full speed make The Colt the next piece of equipment every team will be using" – Ron Burton, Michigan State University Defensive Line Coach
Racine, WI (PRWEB) November 18, 2014
"The response and feedback from Midwest coaches has been phenomenal. It is time to get The Colt in front of a national audience," says owner, Jeff Kraus. The Colt is light enough to be handheld but durable enough to withstand seasons of abuse. It is used to improve player technique at multiple positions. The pad is designed to simulate movement, allow player striking and keep players training football movements at 100% speed safely. The Colt is being utilized by some of the nation's strongest collegiate programs, with rave reviews.
Ron Burton, a highly respected defensive line coach at Michigan State University, is a proponent of Krausko's new pad, "Anytime we have a focus on pad level, hand placement and leverage, we start with the Colt. It is the perfect bridge to live play." Using the pad gives a coach instant feedback on where a player's technique can be improved. "Working against arms and a body frame with movement is critical. That is what we see in the game, so that is what we want to simulate in practice," says Burton. "The design really works hands and feet. It gives us a competitive advantage."
As football coach himself, Kraus designed The Colt based on his on-field experience. "I wanted players using the pad to seamlessly transfer those techniques to a live opponent. It had to handheld for movement. It had to have arms for striking. Football is all about delivering contact or releasing from contact. The Colt gives the coach a great tool to teach with," said Kraus.
"The most gratification comes from seeing how The Colt has been implemented at multiple positions and is adaptable to any system of coaching," says Kraus. Wisconsin State Champion Coach, Joe Koch says, "The Colt has fundamentally changed the way we practice. We use the pad in our daily progressions at every position. From a results standpoint, you can literally see the improvement with all our kids. Most importantly, it is safe." Koch continues, "In an era where man-on-man contact is being limited, having a tool like The Colt has been is imperative. It drastically reduces man-to-man collisions."
Krausko Sports national marketing campaign is underway. "I have seen the results from youth to the pros. The Colt just makes sense, and our success has given Krausko a tremendous opportunity to take The Colt to a national level," stated Kraus. The Colt is a simple, durable and intuitive tool which lets players practice at full speed against realistic movement and resistance, with or without pads any time in or out of the season.
For more information on this football equipment training tool, viewing drills or ordering visit http://www.krauskosports.com or call Krausko Sports at (262) 631-0782.
###