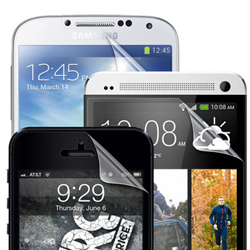 Phoenix, AZ (PRWEB) November 17, 2014
SkyMall, the iconic in-flight catalog we just can't get enough of, has teamed up with Reactive Surfaces, the leader in developing all-natural bio-functional coatings, to offer e-RACE™, the first enzymatic self-cleaning screen protector for phones and iPads available now in SkyMall catalogs and on its website, skymall.com.
"SkyMall is excited to offer the first self-cleaning screen protectors for phones and tablets to its phone/accessory line of products. With the explosive growth of electronics in all aspects of personal and business life, SkyMall remains committed to offering its customers the best products in the electronics market," says Jinine Martin, Director of Marketing at SkyMall.
e-RACE screen protectors contain a novel, enzymatic coating which actually breaks down the greases and natural oils that comprise a fingerprint. Then, with normal use of the phone, the fingerprints wipe away like a marker on a white board, leaving your phone or tablet screen free of fingerprints and smudges. It works great on make-up too!
The active ingredient in e-RACE, a safe, natural and effective enzyme combines with the natural oils from your fingertips to create an invisible layer of soap and glycerin (make-up remover) on the surface of the screen protector, further enhancing visibility and cleanliness of the screen. This self-cleaning quality lasts for the life of the e-RACE screen protector.
About SkyMall
SkyMall, one of the most recognized brands in North America, is a multi-channel retailer most known for its in-flight catalog and website, SkyMall.com. SkyMall, LLC's parent company is Xhibit Corp. The SkyMall catalog will reach nearly 600 million passengers in 2014 and features unique and innovative merchandise including electronic gadgets, home and garden, travel, pets, and gifts. All products shown in the SkyMall catalog plus thousands more are available at SkyMall.com. SkyMall was founded in 1990, will be celebrating its 25th Anniversary in 2015.