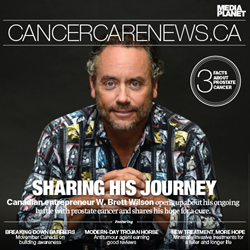 The general reluctance of men to have health check-ups has been a historical issue that we are overcoming.
(PRWEB) November 17, 2014
The print component of Prostate Cancer is distributed within today's Home and Business subscription of the Toronto Star, with a circulation of approximately 230,433 copies and an estimated readership of 622,169. The digital component is distributed nationally through a vast social media strategy and across a network of top news sites and partner outlets. To explore the digital version of the campaign, click here.
The publication features an exclusive Mediaplanet interview with former Dragons' Den star and Canadian entrepreneur W. Brett Wilson about his journey while fighting prostate cancer for the second time. Stressing the importance of building awareness and knowledge of the disease, he states, "I think there is a still a misperception that prostate cancer is an older man's disease; nothing could be further from the truth when statistics are reviewed." Editorial from Pete Bombaci, Country Director of Movember Canada, also shares how it's so crucial to build awareness and take action to live a healthier life. Finally, Dr. Fred Saad, and Dr. Kim Chi discuss new therapeutic options for metastatic castration resistant prostate cancer (mCRPC), and their commitment to improving quality of life for these patients.
Special thanks to Astellas Pharma Canada, Bayer Inc, Profound Medical Inc, Actavis, and Coloplast Canada for their support and contributions in the making of this campaign.
About Mediaplanet
Mediaplanet is the leading independent publisher of content-marketing campaigns covering a variety of topics and industries. We turn consumer interest into action by providing readers with motivational editorial, pairing it with relevant advertisers, and distributing it within top newspapers and online platforms around the world.
Press Contact:
Melissa MacDonald
melissa(dot)macdonald(at)mediaplanet(dot)com
416-583-2265