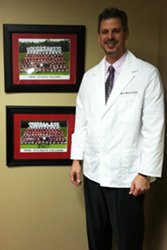 Lawrenceville, GA (PRWEB) November 14, 2014
Lawrenceville residents who are missing one or more teeth can now receive dental implants with greater accuracy, from Dr. Randolph S. Moore. Dr. Moore now utilizes revolutionary Cone Beam Imaging technology to place implants in the most accurate and effective way possible. Dental patients who are looking for a trusted general dentist near Lawrenceville, GA who offers a more stable alternative to dentures are encouraged to call Dr. Moore's office today.
There are many benefits that patients can enjoy if they choose to receive dental implants from a general dentist near Lawrenceville, GA, including increased comfort, better stability, long term durability, and natural appearance. Although dentures are typically very affordable and eliminate the need for oral surgery, they are also fairly uncomfortable and can cause embarrassment if they fall out while an individual is eating or speaking to others. Because implants are placed directly into the jaw bone and are integrated into the bone itself, they are very sturdy, stable, and comfortable. They are also designed to last a lifetime, as long as they are cared for properly.
In order to increase the accuracy of implant placement, Dr. Moore utilizes an advanced imaging system called Cone Beam Imaging. This highly accurate technology creates high definition 3D x-rays within moments. The extremely clear images enable Dr. Moore to see a patient's various dental structures and problems with remarkable detail, which allows him to make the best decision regarding implant placement. The system also allows Dr. Moore to see if there are particular problems that make implant placement more risky for a particular patient so that he can make an informed decision regarding the most effective treatment options.
Another benefit of the Cone Beam Imaging system is that it exposes patients to significantly less radiation than a traditional x-ray system. Patients who receive Cone Beam Imaging are exposed to up to 10 times less radiation than those who are exposed to traditional x-rays.
Dental patients who are looking for a general dentist near Lawrenceville, GA who can place dental implants in the most effective and safe way possible are invited to schedule an appointment with Dr. Moore's office and find out more about Cone Beam Imaging technology.
About The Doctor
Dr. Randolph S. Moore is a general dentist offering personalized dental care for patients in the Buford, GA area for over 20 years. Dr. Moore received his degree from the University of Alabama in Birmingham, and completed his residency at the Veterans Hospital in Birmingham. Dr. Moore is active in the dentistry field and is a member of the Georgia Dental Association, the American Dental Association, American General Dentistry, American Academy of Cosmetic Dentistry and ICOI (International Congress of Oral Implantologists). To learn more about Dr. Moore and his dental services visit their website at http://www.smilemooredentistry.com/, or call (770) 545-6141.