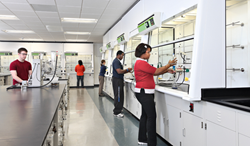 Rowley, MA (PRWEB) November 16, 2014
James Hill and Ken Crooks will co-present "Butler University's Renovation With Filtered Fume Hoods, 3 Years Later" scheduled for Thursday, November 20, 1-2 EST.
In the fall of 2011, Butler University surprised many in the lab design domain by installing 27 filtering fume hoods in their organic chemistry and general chemistry teaching laboratories at Gallahue Hall. The renovation project addressed several shortcomings due to building age and substantial growth within the chemistry program. Now, three years later, the instructors, students, and facilities personnel continue to be thrilled with the performance of the labs and filtering fume hoods.
Join this webinar to:
•Review lessons learned in a fast-track lab renovation project, including changing storage needs, lab bench spacing when occupancy more than doubles, and how to react when a project comes in under budget.
•Assess and plan for the design and operational impacts, both positive and negative, of using filtering fume hoods.
•Calculate the operational costs of tripling the total linear feet of fume hood sash length while significantly reducing the total exhaust.
•Explore feedback from lab users after the project was completed.
Registration
Sign up to attend the live webinar or view the recording.
I2SL Members can register for free! Visit the Member Portal for more information.
IFMA Research and Development Council Members can also register for free. Check with your IFMA member coordinator for details.
Professional Development Hours and Continuing Education Credits
Webinar attendees and those who view the recording can earn one Professional Development Hour (PDH) for professional engineers or one Learning Unit (LU) from the American Institute of Architects for registered architects.
Contact I2SL if you would like to receive a professional development credit for viewing the webinar.
Instructor Biographies
Jim Hill provides leadership to the laboratory design studio with an expertise in the planning, programming, design, and management of science and research facilities. He adds value to his clients' projects through a broad understanding of the technical issues, support systems, and emerging trends associated with complex laboratory environments. Working collaboratively within the interdisciplinary laboratory studio, his team has created several high-performance LEED certified and registered facilities.
Ken Crooks has more than 25 years of experience in commercial and industrial HVAC industries. He is Director of GreenFumeHood Technology at Erlab in Rowley, Massachusetts, which produces world-leading research-grade filtering technologies for fume hoods and laboratories. Previously, Ken worked at Phoenix Controls, Aircuity, and Munters Corporation. Ken is a member of ASHRAE, I2SL and SCUP, and NFPA. His education includes Northeastern and Lesley University.
For conference information, please visit: http://www.tradelineinc.com/research2014
About Erlab:
For over 40 years, Erlab's passion is to focus on the research & development, design, and manufacturing of cutting-edge air filtration in the lab. As an innovator, Erlab is committed to safety, performance, energy efficiency and sustainability and has remained number one in the world for ductless fume hoods since 1968.