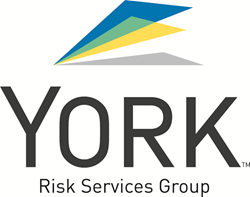 Parsippany, NJ (PRWEB) November 14, 2014
York Risk Services Group (York), a premier national provider of claims management, managed care, risk management and specialized loss adjusting services, today announced its acquisition of Mineola, NY-based Risk Management Planning Group (RMPG). The terms of the transaction were not disclosed.
RMPG provides claims and risk management solutions for workers' compensation and also offers a disability benefits insurance program.
"Expanding our New York presence reinforces York's commitment to our philosophy of delivering superior results through local expertise," commented Rick Taketa, President and CEO of York. "York has a solid presence in the commercial risk management market and a leading position in the specific industries we target. RMPG's focus on construction, healthcare, real estate and hospitality along with their strong presence in the New York marketplace, supports our vision to be the premier provider of customized solutions to specialty markets," he added.
"Our focus at RMPG has always been to help our clients manage claims, reduce losses and improve productivity through custom solutions, expert knowledge and outstanding service. Joining with York will allow us to expand the products and solutions we offer our clients and continue our commitment to excellence. We are excited about being part of an innovative, industry-leading company like York," said Liam Dunn, President of RMPG.
About York
York Risk Services Group Inc. is a premier provider of risk management, claims handling, specialized loss adjusting, managed care, pool administration, loss control and other insurance services. York provides risk management and managed care solutions to a variety of strategic partners, including insurance carriers, self insureds, brokers, wholesalers, MGAs, programs, risk pools and public entities. Through its teams of seasoned claims and risk management experts York delivers customized claims solutions for all lines of business, including property, liability, products liability, ocean and inland marine, environmental, transportation and logistics, construction and workers' compensation. With more than 90 offices in the U.S. and a strong international presence, York is the third largest TPA in the marketplace and proudly serves more than 6,300 clients.
About RMPG
The Risk Management Planning Group, Inc. (RMPG) is a Third Party Administrator (TPA) and Claims Service Organization specializing in the management of workers' compensation claims and disability benefits insurance programs. Founded in 1984 and based in Mineola, NY, RMPG's team of experienced professionals has built a proven track record of success in some of the most challenging industries including health care, construction, real estate.