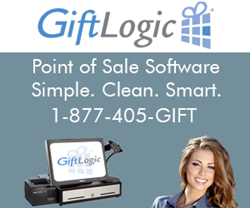 With just a few easy steps, our users can create special "buy one get one" campaigns for a given time period.
Englewood, FL (PRWEB) November 16, 2014
GiftLogic recently announced a new pricing feature that makes it possible for users to easily offer "buy one, get one" pricing. This retail pricing tool comes built into GiftLogic's point of sale software and allows retailers to specify a discount amount, dollar amount, or quantity that will be free with purchase.
According to a spokesperson from GiftLogic, "With just a few easy steps, our users can create special "buy one get one" campaigns for a given time period. For example, a retailer might want to offer an item as buy one, get one free for a period of three days. This new tool allows the retailer to specify the exact value of the campaign as well as its length. When a clerk scans the item, the special pricing automatically kicks in."
In addition to correctly pricing the sales items at the register, GiftLogic automatically applies the discount to items of equal or lesser value. "Not only that," the spokesperson added, "It charges for the higher priced item so that the free or discounted item is the one with the lower price."
To reinforce the value to the customer, GiftLogic prints the buy one get one savings directly on the receipt. "Retailers love this feature," the spokesperson said. "It shows their customers exactly how much money they saved by shopping at their establishment."
Because the campaign resides within GiftLogic, sales clerks are not tasked with having to remember sale details. "In fact, retailers can even group multiple items within a single campaign," explained the spokesperson. "For example, if a retailer wanted to create a buy one get one campaign for all novelty t-shirts in stock, GiftLogic allows for that. Again, the software would recognize the lower priced item and ring up the sale accordingly."
About GiftLogic
GiftLogic Point of Sale software is an easy-to-use point of sale cash register and store management system designed specifically for the needs of small retailers. This solution features an attractive price point with big box style features that allow retailers to deliver an improved customer experience. Default features include cash register software, inventory management, purchasing and receiving tools, store management tools, gift receipts, employee security, and more. Add-on modules such as gift registry, consignment, eReceipts, and QuickBooks integration allow even more functionality.