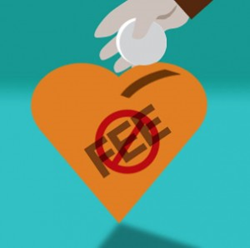 We are the first to offer free tools and service for anyone to forge a direct connection between donors and the causes they care about without taking a cut.
Seattle, WA (PRWEB) November 14, 2014
In celebration of National Philanthropy Day, Brown Paper Tickets has launched the first service for anyone to accept online donations with no contract, service fees or opt-out charges. The Not-Just-For-Profit ticketing and event registration company has helped 1,012 organizers raise $667,000, with no website fees. If these organizers had used another platform, between $13,340 and $33,350 of the donated funds would have gone toward ticketing, donation or crowdfunding platform profits instead of to their causes.
"We are the first to offer free tools and service for anyone to forge a direct connection between donors and the causes they care about without taking a cut," said Steve Butcher, CEO of Brown Paper Tickets and creator of its Not-Just-For-Profit business model of social responsibility. "Fundraising is a selfless act of kindness or passion for positive change. We honor the work of fundraisers and change-makers by giving them the tools and support they need, and putting the financial rewards of their labor directly in their hands, where it belongs."
"I couldn't believe that Brown Paper Tickets would do this for us for no fees; it felt like there must be a catch, but there never was one," said Heather Rangel, organizer of a $100,000 fundraiser for Cancer Commons, a nonprofit that educates patients with personalized, up-to-date information needed to beat cancer. Rangel raised the funds in tribute to her deceased friend, Jackie Tran, who lost her battle with cancer just four weeks ago, by organizing a benefit concert featuring the band Rusted Root, and using Brown Paper Tickets for anyone to buy tickets, donate funds or both in the same transaction.
In order to make the show happen, the band rescheduled an existing show, played for a greatly reduced rate, played five shows in a row when their preferred limit is three, drove 832 miles from Seattle, cut their standard rider and paid for their own accommodations. Brown Paper Tickets took no fees from any online donations.
"I thought I was going to raise $15,000, and I raised close to $100,000. I didn't know there was anything out there that allowed events to be produced on such a low budget with such high impact," said Rangel.
In addition to fee-free donations, Brown Paper Tickets offers a lower fee for ticket buyers than competing ticketing companies offer to 501©(3) nonprofits.
Fee-free donations can be accepted by anyone with a PayPal or merchant account to accept credit card payments. For those selling tickets as well as accepting donations, 102.5 percent of the face value of each ticket is given to the event organizer by Brown Paper Tickets. Official 501©(3) organizations who qualify for a lower credit card processing rate with PayPal or their credit card merchant find that Brown Paper Tickets' gift of an additional 2.5 percent of the face value of every ticket often covers 100 percent of their PayPal or credit card merchant fees.
Indie musicians, schools, community centers, small businesses, grieving loved ones, natural disaster victims, 501©(3) charities and more have used Brown Paper Tickets' fee-free donation tool to create a donation page, or to create pages that include event tickets and the ability to donate to the cause in the same transaction, or both.
Park Slope Parents and the Old Stone House, both of Brooklyn, New York, collected $44,274 in donations to provide underwear, socks, towels, water, and hundreds of hot meals for shelters and Hurricane Sandy evacuees.
Feather Note Music Project, a philanthropic program to prevent suicide in Native American youth by teaching and giving them the tools to record music, stories and languages of their culture, is seeking funding through an online donation page at http://www.brownpapertickets.com/event/668893. Brown Paper Tickets' event pages can be used for crowdfunding any project, with no deadlines or limitations.
Thrilled by the success of her first fundraiser, Rangel had decided to raise $1 million for CancerCommons.org at http://jackietran1m.brownpapertickets.com, using the fee-free donation tool, where she knows that every penny will go right to the cause.
An online tutorial to learn how to set up fee-free online donations is at http://bit.ly/1oWEfAN. The Brown Paper Tickets fee-free donation tool will remain as a permanent option for anyone who wants to collect funds online for any cause on #GivingTuesday and any day of the year. For more information, call Brown Paper Tickets' event concierges at 1-800-838-3006, 24/7.
###
About Brown Paper Tickets:
Brown Paper Tickets is a socially conscious global leader in online ticketing and event registration, helping people in 68 countries plan, promote and sell out events. Ranked as the 8th largest primary ticketing company in the world in Aug. 2012 by Ticket News, a publication that reports on the ticketing industry, Brown Paper Tickets was rated #1 for ticketing and event registration by FindTheBest.com, #1 for customer service by Bay Area Dance Watch, and will be opening its newest office in New York, NY in 2014. To learn more about the world's only Not-Just-For-Profit ticketing company, visit http://community.brownpapertickets.com/press/.