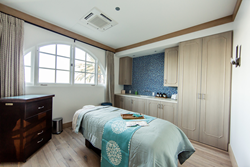 (PRWEB) November 17, 2014
Catalina Island, Calif. (November 17, 2014) – Santa Catalina Island Company (SCICo), Catalina Island's longest-running operator and premier resort-service provider, introduces the opening of the island's first-ever destination resort spa as a part of its $40 million revitalization plan. Opened on November 14th, Island Spa Catalina will pamper guests and locals with a new wellness sanctuary and a variety of thoughtfully selected treatments and rejuvenating therapies reflecting intrinsic island botanicals.
Under the direction of American Leisure spa operators and reflecting Catalina's rich history and seaside atmosphere, Island Spa Catalina will feature nine treatment rooms with spectacular views of the Pacific Ocean, an Island Spa Café, Spa Shoppe, salon, ocean view relaxation deck and spa courtyard complete with a uniquely designed soaking pool and luxurious chaise lounges for guests to relax, before and after treatments.
"As our revitalization plans continue to evolve Catalina Island as a quintessential destination in California, we are thrilled to introduce Island Spa Catalina to our guests," says Randall Herrel, CEO of Santa Catalina Island Company. "The new spa perfectly merges the historic charm and tranquility of the destination with cutting edge therapeutic treatments and wellness facilities that will attract locals, leisure guests, wedding parties and groups of all sizes."
The spacious Island Spa Catalina is located inside the historic El Encanto building in Avalon and features 15,000-square feet of indoor bliss in addition to a variety of outdoor experiential spaces including the spa's café, courtyard, soaking pool and vista deck. Honoring local tradition and design, Island Spa Catalina offers relaxing, healing and therapeutic treatments including results-oriented skin care and rejuvenating body therapies that integrate island grown, organic and natural ingredients in a pampering environment that infuses guests with the island's spirit. Complementing Catalina Island's classic charm and incorporating natural local elements indigenous to the seaside region, signature spa treatments will range from $50 to $200 in price and include a Sea Oxygen De-Age Facial, Hydra Facial Treatment, Cat-Nap sleep treatment and Seaweed Surrender detoxifying body wrap.
Island Spa Catalina features a variety of high-performance treatment lines including OSEA, a natural, vegan, marine-based skincare; Stemulation, a high-tech facial treatment line that focuses on anti-aging; and Organic Male, a complete skin care system dedicated to the needs of the male clientele. Other spa product lines include Tara Spa Therapy, a holistic aromatic massage treatment line; Mio Fit for Life products that will be featured in high intensity, high energy body treatments that target key concerns; Vita Liberata, a 100% organic spray tan line that delivers a natural and beautiful sun-kissed tan; Dr's Remedy Nail Lacquer, a healthy alternative for manicures and pedicures; and LaBella Donna mineral makeup. The retail area highlights the Salt of the Earth Blend Bar, which allows guests to blend their own aromatic body crèmes and body scrubs.
Entirely dedicated to personal wellness, Island Spa Catalina exudes a calming atmosphere with island-inspired décor that includes the famous original Catalina tiles, antique textures and a coastal color palette of turquoise, blues and creams that complement the spa's historical architecture. Creating a full spa experience, the new spa facilities includes specialty showers, a dry inhalation sauna and a eucalyptus steam room, which are accompanied by a nail salon that offers manicures, pedicures and hair and make-up salon services; a Spa Shoppe that features a selection of local artisan spa products; an exclusive Spa Café with a variety of fresh and healthy menu options; and a spa courtyard and vista deck where guests can relax pre and post-treatment.
Set in an alcove of the courtyard with lovely views of spa botanicals and glimpses of the Pacific Ocean, Island Spa Catalina will be open to both guests and local Avalon residents. Located 22 miles off the coast of Southern California, Catalina Island is easily accessible by high-speed ferry boats or a fun 15-minute helicopter ride from the mainland ports of San Pedro, Long Beach, Dana Point and Newport Beach; and the new luxury wellness haven will be located at 163 Crescent Avenue in the heart of Avalon. For spa reservations, please call 877-778-6454 or visit http://www.islandspacatalina.com.
# # #
About Santa Catalina Island Company
Located 22 miles off the coast of Southern California, Catalina Island is a popular resort and outdoor recreation destination, anchored by the two charming villages of Avalon and Two Harbors; and also commonly known for its vibrant history as the island of choice for Hollywood's elite during its Golden Years. Santa Catalina Island Company (SCICo) incorporated in 1894, offers a wide range of services and amenities including the Descanso Beach Club, Island Spa Catalina, Pavilion Hotel, the Catalina Country Club and Golf Course, Banning House and Harbor Reef at Two Harbors, the iconic Casino Building and Avalon Grille. SCICo's expedition operations also boasts a menu of more than 20 outdoor adventures designed to introduce visitors to the island's natural beauty and rich history, including expeditions and tours such as the Zip Line Eco Tour, Cape Canyon Hummer Expedition, Dolphin Quest, Undersea Expedition and many others. Other activities include hiking, bicycling, fishing, boating, kayaking, snorkeling, golfing or relaxing on the beach. For more information, please visit http://www.visitcatalinaisland.com.
About American Leisure
American Leisure is the leading multi-million dollar corporation that conceptualizes, designs and operates innovative and highly productive spas and lifestyle, sporting and recreational facilities. For over 30 years, American Leisure has been working with real estate, hospitality and various other industries to build their reputation as trendsetters and designed state-of-the-art fitness centers, Asian tea gardens and Aqua Grottos® at luxury residential communities, hotels, resorts and spas. American Leisure's customized lifestyle centers allow people to maximize leisure time whether at home, work, school or on vacation. For more information, please visit http://www.americanleisure.com.
MEDIA CONTACTS:
Lydia You | Kaitlin Novell
Murphy O'Brien Public Relations
310-586-7124 | 310-586-7170
catalinaisland(at)murphyobrien(dot)com