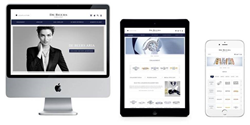 "The new debeers.com is an important development for our brand. We wanted to create an experience that was inspiring and immersive as well being consistent with our unique DNA." – Francois Delage CEO De Beers Diamond Jewellers
New York, NY (PRWEB) November 18, 2014
De Beers Diamond Jewellers is delighted to announce the launch of its new website on debeers.com. The new website is fully responsive to enable a seamless experience across desktop, tablet and mobile where visitors can be inspired, informed, browse and shop for beautiful diamond jewellery.
De Beers' unique passion and expertise in creating diamond jewellery is brought to life on debeers.com. It is the definitive online destination for jewellery connoisseurs and first time buyers alike to explore and discover the timeless allure of diamonds.
"The new debeers.com is an important development for our brand. We wanted to create an experience that was inspiring and immersive as well being consistent with our unique DNA. With diamond mastery spanning 125 years, our new site offers users an insight into our wondrous world of diamond jewellery and advice from our experts at the De Beers Institute of Diamonds," said Francois Delage CEO De Beers Diamond Jewellers.
Debeers.com has beautiful content to discover including the inspiring stories and stunning photography by Mary McCartney for the De Beers "Moments in Light" programme celebrating talented women.
A new section called "The De Beers Difference" allows people to discover the mystique of diamonds and the unique jewellery creation process at De Beers, including sections on "Our Diamonds", "Artistry", "Peace of Mind" and "Our Story". "Our Diamonds" allows users to understand how De Beers individually hand selects each diamond for its beauty – for the Fire, the Life and the Brilliance, and discover the Iris - an in-store diamond demonstrator – that showcases the beauty of De Beers hand-selected diamonds.
Browsers on debeers.com can create their "Wish List" and share it with friends and family, and make an appointment in a De Beers store to meet with an expert brand ambassador who will have any selections ready for viewing.
In the US, clients can purchase collection jewellery and wedding bands directly from debeers.com. The site prominently features many pieces from the newly launched De Beers Aria Collection, perfect for holiday gifts.
The new debeers.com was created in collaboration with Somo, a mobile-first global digital agency headquartered in London.
NOTES TO EDITORS
THE DE BEERS DIFFERENCE
De Beers, the Jeweller of Light, creates timeless treasures that reveal and celebrate the wondrous brilliance of women and diamonds. As the definitive destination for diamond jewellery, we have a quest for inner beauty, bringing lightness, femininity and delicacy to our sublime diamond jewellery.
Drawing on diamond mastery since 1888, De Beers hand-select each diamond for its unique beauty to capture unmatched Fire, Life, and Brilliance. Each unique De Beers creation is the culmination of wondrous artistry and the true beauty of the finest diamonds.
De Beers is proud to be the only brand to demonstrate the beauty of its diamonds, using the De Beers Iris. This proprietary technology, found in each De Beers store provides clients with an objective way to see the beauty of their diamond through the eyes of an expert.
THE DE BEERS GUARANTEE
Each piece of De Beers jewellery is certified with a De Beers Certificate of Authenticity and each polished diamond above 0.20 carats is microscopically branded with the De Beers Marque. The De Beers Passport documents the specifications of your diamond jewellery and is your guarantee that every single De Beers diamond is natural, untreated, conflict-free and responsibly sourced and crafted. The De Beers Marque, using technology patented by the De Beers Group, is invisible to the naked eye and ensures that each diamond is individually catalogued in the De Beers diamond registry, confirming its identity as a De Beers official diamond, to provide clients with a total peace of mind.
DE BEERS DIAMOND JEWELLERS
De Beers Diamond Jewellers was established in 2001 as an independently managed and operated company by LVMH Moët Hennessy Louis Vuitton, the world's leading luxury products group, and De Beers SA, the world's premier diamond mining and marketing company.