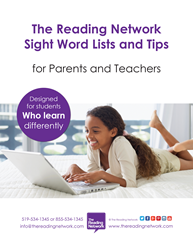 This resource will be very useful to parents or educators looking for new ways to help struggling readers learn sight words.
United States (PRWEB) November 19, 2014
The new e-book includes twenty sight word lists and accompany tips for instruction for all words on the lists. Sight words are high-frequency words that students need to be able to recognize quickly to become fluent readers. These words usually have irregular spelling and are not easily sounded out. Also, they may be very abstract in nature. Words such as "have" and "what" do not have a concrete meaning attached to them, and are therefore harder to remember. Focused work on high-frequency words and intentional use of those words in context are both recommended for students learning to read.
The tips are the results of working with many students and learning some tricks that are helpful for students who have difficulty mastering sight words. Often, these children need something a little different to help them be able to identify the words more quickly. The Reading Network have found these tips helpful with struggling students.
The Reading Network's Sight Word Lists and Tips can be purchased on The Reading Network's website for $9.99 plus tax.
As well, a free download of one of the 20 lists and accompany tips is available to visitors who subscribe to The Reading Network Roundup, the company's regular newsletter.
The Reading Network
The Reading Network provides one-to-one reading instruction, to children with reading difficulties, online. If you would like to chat about a child's reading progress or learn more about their services, call 1-855-534-1345. You can find more information about The Reading Network on their website.