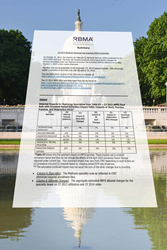 The RBMA appreciates that CMS is taking care to transition mammography codes carefully, but overall had hoped the agency would have acted on more of the recommendations from imaging services providers who know this field best.
Fairfax, VA (PRWEB) November 18, 2014
On behalf of its 2,300 members, the Radiology Business Management Association (RBMA) has conducted a detailed analysis of the Medicare Physician Fee Schedule (MPFS) for physicians' services furnished in calendar year (CY) 2015 that was published it in the November 13th Federal Register.
"While we are pleased to see that the Centers for Medicare & Medicaid Services (CMS) is taking care in moving ahead on certain fee schedule changes, there are many provisions in the final rule that our RBMA members remain concerned about and are watching closely," said President, RBMA Board of Directors, Keith E. Chew, MHA, CMPE.
Among the RBMA's concerns with the CY 2015 MPFS proposed rule published earlier this year were its underestimates of equipment maintenance costs for diagnostic imaging (especially mammography) and non-physician malpractice premiums. In the final rule, CMS did not act on the RBMA's real-world evidence that equipment maintenance costs should be raised to 15 percent for mammographic imaging equipment and 10 percent for all other imaging equipment. It also did not adopt the RBMA's recommended premium data for non-physician malpractice insurance for technical component providers.
However, it did follow the urging of the RBMA and others to maintain the G-codes for digital mammography pending further study. It plans to review all mammography codes (both CPT and G-codes), except breast tomosynthesis, for possible revaluation.
The final rule also underscores the importance of fixing the flawed sustainable growth rate (SGR) formula as it is applied to the calculation of physician payments under Medicare. For CY 2015, the MPFS conversion factor (CF) that applies for the first three months of the year would fall from $35.8013 to $28.2239 on April 1, 2015, when the current temporary SGR fix legislation (The Protecting Access to Medicare Act of 2014) expires.
Other notable highlights in the final rule include:

CMS finalized replacing film-related supplies and equipment with a desktop computer as a proxy for the cost of a PACS workstation, a move the RBMA has found to undervalue the true costs of digital imaging. RBMA had requested a one-year delay in CMS' transitioning from film to digital practice expense inputs.
CMS will collect information about services furnished in off-campus provider-based departments:
o Place of Service (POS) code 22 (outpatient hospital setting) will be replaced by two new POS codes: (1) for outpatient services furnished in on-campus, remote or satellite locations of a hospital and (2) for services furnished in an off-campus hospital provider-based department (PBD) setting that is not a remote location of a hospital, a satellite location of a hospital or a hospital emergency department.
o A new HCPCS modifier will be created for hospital claims; voluntary in CY 2015 but required starting in CY 2016.

CMS will convert services with 10-day and 90-day global periods to 0-day global packages starting in CY 2017 and CY 2018, respectively.
The RBMA observes that CMS did not act on four provisions included in the proposed rule that would have impacted radiology. These were:
1. Paying for secondary interpretation of images
2. Revising the policies for billing for substitute physicians
3. Using hospital and ambulatory surgical center cost information in setting practice expense relative value units (RVUs)
4. Using Medicare expenditures ($10 million or more) as a screen for potentially misvalued services
The CY 2015 MPFS final rule also includes important updates to the relative values for radiology and interventional radiology procedures. According to CMS published specialty impact estimates, interventional radiology, nuclear medicine and radiation oncology will not see much of an impact on total Medicare allowed charges due to changes in the 2015 MPFS final rule. However, radiology will see a combined average 1 percent reduction on total Medicare allowed charges for services covered by the MPFS, and independent diagnostic testing facilities (IDTFs) will see a 2 percent reduction. Radiation therapy centers will see a combined average increase of 1 percent. The RBMA notes that an individual practice's impact may vary from CMS' estimates depending on factors such as its procedure mix and whether it is hospital-based or a freestanding imaging center/IDTF site.
"The RBMA appreciates that CMS is taking care to transition mammography codes carefully, but overall had hoped the agency would have acted on more of the recommendations from imaging services providers who know this field best," said RBMA Federal Affairs Committee chair Liz Quam. "The continued undervaluing of imaging in the MPFS places a significant burden on providers and endangers Medicare patient access to advanced imaging services that can help prevent costly diagnostic errors and avoid more invasive procedures."
The RBMA's detailed summary of the rule and CMS' impact tables can be found here.
About RBMA
The Radiology Business Management Association (RBMA) is a national not-for-profit association providing members with applied business information and intelligence applicable in any radiology setting. The RBMA has approximately 2,300 members involved in various management capacities in private practices, academic radiology groups, imaging centers and hospitals. The RBMA continues to be recognized as the leader for radiology-specific educational programs, products and services, publications and data.