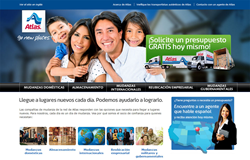 Evansville, Inc. (PRWEB) November 14, 2014
Atlas Van Lines continues to go global with the introduction of a Spanish version of the moving company's website. Atlas en Español provides a platform for conducting business and connects users to bilingual Atlas agents that provide a full suite of moving services.
"The Hispanic community is the fastest growing demographic segment in this country, with the number of Spanish speakers up 233 percent since 1980," says Jack Griffin, president and COO of Atlas Van Lines. "If we are to position Atlas as a supplier to the Hispanic community, our online tools must be available in Spanish. This is a burgeoning, evolving marketplace and Atlas is ready to help everyone go new places."
Atlas en Español features fully translated web pages that explain Atlas service areas, including corporate relocation, international moving, government and military moves, and storage. Upon landing at the site, visitors are prompted to get a free quote and receive a list of bilingual agents in their area.
The new website was unveiled at the 67th Annual Atlas Convention held Nov. 12-15 in Kauai, Hawaii, where more than 300 Atlas agent representatives were in attendance from around the globe. This year's convention theme was 'Ohana, meaning "family" in Hawaiian culture, speaking to Atlas's world-class agent network and its unity.
To view Atlas en Español, visit http://www.atlasvanlines.com/espanol. For more information on Atlas Van Lines, its agency network or its moving services, visit http://www.atlasvanlines.com.
About Atlas Van Lines
Atlas Van Lines, a national moving company, is the largest subsidiary of Atlas World Group, an Evansville, Ind.-based company. Atlas World Group companies employ nearly 700 people throughout North America. Nearly 500 Atlas interstate moving agents in the United States and Canada specialize in corporate relocation, household moving services and in the transportation of high-value items such as electronics, fine art, store fixtures and furniture.