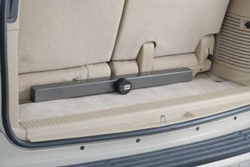 - it was a wake up call when my seats were stolen in a very upscale parking structure - thieves are thieves no matter where you park.
Folsom, CA (PRWEB) November 19, 2014
Unfortunately too many SUV owners with third row car seats are being surprised and upset when discovering that someone stole their 3rd row seat out of their car and usually did some considerable break-in damage as well. These seats were designed to be removed easily for the convenience of the owners, not thieves, but that is what is happening. When searching Google for "third row seat thefts" the results are over 2.5 million hits. (1)
Thieves can break into SUV's, steal the seats, and be gone in less than one minute. The beach town of Manhattan Beach, California alone experienced seven 3rd row seat thefts in just one week. (2) And a car dealership opened shop one morning and found they had been robbed of over $48,000 worth of third row seats overnight. (3)
Third row seat thefts started being quietly reported in 2012 but have spiked since then and are now on the rise at an alarming rate, especially with General Motors (GM) Vehicles. GM only produced enough third row seats to fulfill the number of vehicles sold. Consumers needing to replace stolen seats and those who decide to enhance their vehicles with additional seating can pay as much as $3000. (3)
It's become an opportunity for criminals to make thousands of dollars very quickly. A few seconds of work can earn a couple thousand dollars in payout for a thief willing to take a risk, and it's spreading like wildfire. So much so that it is now common to see the topic addressed regularly on police blogs and bulletins across the nation.
Third row seat thieves are cashing in around $1500, leaving plenty of room for black market repair shops and others on craigslist to offer the seats at a price that desperate consumers will pay. "SUV owners whose seats have been stolen can't afford the high cost of having new ones built," said Sabino Cici, of Xtralock®, "and so the online market for them keeps growing."
There have been a couple of "locking" mechanisms developed to stop the thieves but unfortunately they're easily removed with wire-cutters or a wrench. Thieves figured that out quickly and now arrive equipped with the tools they'll need in hand.
When he learned about this growing problem, Sabino Cici, a locksmith specializing in the auto industry, took action and developed Xtralock®, a locking system that makes it nearly impossible for thieves to remove the seats. The locking system features a lock with no shackle for thieves to cut through. Cici decided that in addition to being secure, the locking system should be visible to would be thieves to deter them from even trying. He even included window decals as part of the system to alert thieves that the vehicle is protected by Xtralock®.
"It serves our customers best when the thieves don't even try and just move on to find an unprotected vehicle rather than one protected by Xtralock®," said Michael Deffina, President of Xtralock®, "We wanted to create a highly secure system to prevent both the theft and the costly break-in damage but would still be quick and easy for anyone in the family to install or remove the lock whenever they want."
Both Deffina and Cici are very proud that their product has been so well accepted. "Our sales keep growing and we have had no returns even though we have a 100% money back guarantee," said Deffina, "which tells us we hit the mark."
Xtralock Inc. is a privately held company devoted to creating a high quality locking system to lock out criminals and protect third row seat vehicles.
Consumers can order Xtralock® by visiting http://www.xtralock.com.
Sources:
(1) Google, 11/18/14 https://www.google.com/webhp?sourceid=chrome-instant&ion=1&espv=2&ie=UTF-8#q=third%20row%20seat%20thefts
(2) Manhattan Beach Patch 9/17/14 http://patch.com/california/manhattanbeach/seven-suv-third-row-seats-stolen-manhattan-beach-last-week
(3) ABC News 9/20/13 http://news.yahoo.com/blogs/beyond-the-headline/keep-car-thieves-want-seats-025233080.html