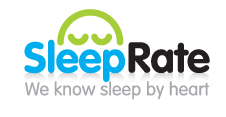 Palo Alto, Calif. (PRWEB) November 17, 2014
SleepRate, a company that helps people sleep better to improve their quality of life, today released a major update to its Sleep Improvement Plan to help people with Delayed Sleep Phase Syndrome (DSPS)—otherwise known as "Night Owls"—get quality sleep. According to the American Sleep Foundation, DSPS affects 15 percent of teenagers and adults, oftentimes preventing them from meeting daytime obligations, such as arriving to work or school on time. Night Owl Syndrome also causes daytime sleepiness that can contribute to irritability, long-term health issues, lost productivity, and serious injury or accidents.
The new offering bolsters the company's ability to treat psycho-physiological sleep disorders, which account for 70 percent of all sleep issues. People with DSPS usually have difficulty falling asleep, but once they fall asleep they have no difficulty obtaining uninterrupted sleep. If their daily schedule affords it, they typically sleep until late morning or early afternoon. As a result, most Night Owls suffer from ongoing insufficient sleep due to their inability to fall asleep early enough to give them ample sleep when they have daily routines that require early wake up times.
SleepRate detects if a person has DSPS, various forms of Insomnia, a combination of both, or other sleep issues by monitoring and analyzing a person's heart rate over the course of five nights. Once the issues are detected, a personalized Sleep Improvement Plan is generated based on Cognitive Behavioral Therapy for Insomnia (CBTI) protocols exclusively licensed from Stanford University School of Medicine, Psychiatry, and Behavioral Sciences. This affordable, non-pharmaceutical approach guides people through a series of sleep-related behavioral changes to readjust the biological clock, increase sleep drive, and reduce nighttime alertness to achieve healthy sleep.
The addition of DSPS to the Sleep Improvement Plan introduces specific goals for Night Owls, including:

Wake up anchor: Wake up at the same time every day (including weekdays and weekends) to help stabilize the internal sleep clock. This will increase sleep drive once it's time to go to bed.
Light Therapy: Expose 45-60 minutes of light immediately after waking up. This will cue the brain that it's time to be alert. Make this a constant to help reset the internal sleep clock and wake up feeling rested and more alert.
Create a buffer zone before bedtime: Unwind from a busy day by engaging in enjoyable, relaxing activities one hour before bed time.
Go to bed only when sleepy: If not feeling sleepy, continue with relaxing activity until tired. (Chasing sleep is not an effective sleep technique.)
"40 percent of customers have some form of DSPS, and now SleepRate is able to offer them a more specific treatment plan based on their Night Owl tendencies," said Uli Gal-Oz, CEO of SleepRate. "Bodies are biologically programmed, through circadian rhythms, to sleep at night and be alert during the day. This addition to our Sleep Improvement Plan will help millions of people with DSPS normalize their sleep schedule."
SleepRate is available for free in the App Store and works with all iOS 7+ devices. The full SleepRate Sleep Improvement Kit is available at http://www.sleeprate.com or on Amazon. Join the conversation at http://www.sleeprate.com/blog or follow @SleepRate on Twitter.
About SleepRate
Based in Palo Alto, California and Petach Tikva, Israel, SleepRate uses a smartphone and a heart rate monitor to accurately assess sleep issues, and offers an individualized sleep improvement plan, based on the Stanford University's CBTI protocols. This unique approach offers a level of insight, not currently available, in identifying the root causes of sleep issues and helping improve sleep. SleepRate currently offers the only solution that combines sleep analysis with steps to resolve sleep problems. The company has been founded and is led by leading experts in sleep medicine.