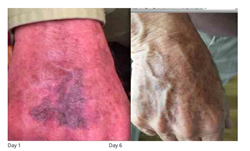 "As a vascular surgeon on blood thinners, I found the resolution of bruising in just 5 days remarkable. I am sold on Dermaka!" John V. Dunne, M.D., FACS
(PRWEB) November 16, 2014
Dermaka, LLC, is proud to launch Dermaka Cream, an all-natural plant-based product that aides in skin healing, rejuvenation, and substantially reduces redness and bruising. Dermaka was developed by a surgeon to minimize bruising and inflammatory responses of the skin in the post-operative period. It soon became evident that bruising was also substantially reduced in a short period of time. Natural plant extracts were chosen that specifically decrease bruising, redness, and irritation after procedures that disrupt the skin's natural barrier. Other extracts, natural oils and vitamins were added to aid in skin rejuvenation. Clinical tests of this unique combination of natural extracts, essential oils and vitamins have demonstrated excellent results and exceptional patient satisfaction.
Physicians that have incorporated Dermaka Cream into their treatments have seen excellent results. Dermaka Cream has also been very effective on patients who are on blood thinners.
Natural plant extracts include Arnica montana flower extract and Bromelain (pineapple extract) which are very effective natural ingredients to decrease redness and bruising. Gllycrrhiza Glabra (Licorice) Extract is a very potent agent that helps reduce discoloration (red & brown) after treatment. Camellia Sinensis (Green tea) extract is a powerful anti-oxidant that protects from the harmful effects of skin damage. Chamomilla Recutita (Chamomile) extract has both anti-inflammatory and antiseptic properties and helps calm the skin. Vitamin E and A are also added to this unique proprietary blend.
Dermaka should be applied two to three times daily or as instructed by a health care professional.
For more information and/or to order Dermaka Cream, please visit http://www.dermaka.com.