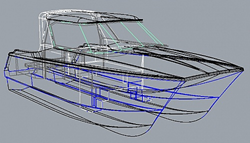 Compliance with ABYC standards is one of the most important jobs that we have at ArrowCat. The safety of our vessel is paramount to us
Everett, WA (PRWEB) November 30, 2014
ArrowCat Power Catamarans is a strong supporter of industry defined construction standards. Industry standards provide a direct link between boat builders and boat buyer and enhanced consumer confidence in the manufacture and the industry as whole. Industry standards also provide the best transparently for the manufacture and consumer and are always more robust and complete than government standard. Because of this, ArrowCat builds it boats to the American Boat & Yacht Council (ABYC) standards and furthermore the boats are verified by the National Marine Manufacturers Association. (NMMA) through it annual inspection process. Kim Stebbens, President of ArrowCat says "Compliance with ABYC standards is one of the most important jobs that we have at ArrowCat. The safety of our vessel is paramount to us".
For the USA market ArrowCat power catamarans are NMMA and ABYC certified. For the European markets ArrowCat is embarking on a program to fully certify all ArrowCat 30, 32 and 42 power catamarans to CE MARK ISO Recreational Craft Directive 94/25/EC. standards. This is an on going challenge and we expect to have our CE MARK complete by Q1 of 2015.
The ABYC, NNMA and CE certification goals further underscore out commitment to quality manufacturing process that protect the customer and uphold our stated goal of building the best and most rugged power catamaran on the market.
About ArrowCat Marine
ArrowCat Power Catamarans is a leading international NMMA certified builder of 30-foot 32-foot and 42-foot power catamaran boats in CE category B, coveted for near offshore and rough water capability. Highly fuel-efficient, ArrowCat Power Catamarans are handcrafted by ArrowCat Marine and have been proven on seven seas and four oceans. ArrowCat operations is located at 1205 Craftsman Way Suite 111, Everett WA 98201. For more information, visit http://www.ArrowCat.com or call (877) 277-6999.