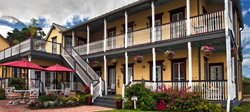 St. Augustine is such a great place for artists--there are so many beautiful views, as well as great community support.
St. Augustine, FL (PRWEB) November 17, 2014
Some of Florida's most talented painters will be showing off their skills in St. Augustine on November 30, on the grounds of the Bayfront Marin House bed and breakfast.
"The morning light is just beautiful off the bay," says bed and breakfast owner Sandy Wieber, "and we thought it would be a great place for artists to capture that light, along with the beauty of our town."
The plein air event, sometimes called a "paint out", is coordinated by Jean Drayovitch, local artist and co-founder of The Anonymous Society of Artists. "St. Augustine is a great place to be an artist," says Drayovitch. "And it's a great place to paint en plein air. The town has so many beautiful buildings and architecture, as well as gardens, and flowers, and wildlife. The Bayfront Marin House location will give our artists plenty of choices to paint or draw--there is the lovely bayfront, the gardens, the building itself. In addition, the bed and breakfast's patio and deck offer gorgeous views of the seawall, the Bridge of Lions, and our historic lighthouse."
Participating artists include two of the co-founders of the Anonymous Society of Artists, Jean Drayovitch and Michael F. Clark; as well as Jim Christley, Linda Holmes, Denis Pellerin, Marilyn Galan, and Bobi MiniMora. All are members of Plein Air Artists of Northeast Florida, and they represent multiple medias, including oil paint, watercolor, and pencil.
Melissa Roby of The Red Sable art store has donated a gift bag of art supplies, which will be presented to a random artist at the event. The Red Sable is located at 107 King Street, inside Cartridge World in St. Augustine.
"It's great to have so much support from the community," says Drayovitch. "The bed and breakfast owners, Mike and Sandy Wieber, embrace the arts, and I think this will be a great partnership."
The paint out event will take place from 8am til 11am. For more information, contact the Anonymous Society of Artists at http://www.anonartists.com, The Red Sable at http://www.theredsable.com, or The Bayfront Marin House at http://www.bayfrontmarinhouse.com.
More Information about the Bayfront Marin House
The Bayfront Marin House in Saint Augustine, Florida is a 15-room, luxury bed and breakfast inn. Located on the Matanzas Bay, the bed and breakfast offers stunning views of the water, along with a hot southern breakfast each morning, daily happy hours, delicious desserts, and the highest levels of personalized customer service. Reservations can be made by calling 904.824.4301.