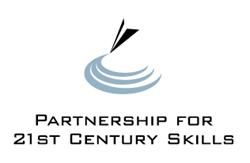 We must equip our schools with the technology and broadband access needed to transform teaching and learning. - Dr. Helen Soule
Washington, DC (PRWEB) November 17, 2014
Partnership for 21st Century Skills (P21) Executive Director Dr. Helen Soulé issued the following statement in response to Federal Communications Commission (FCC) Chairman Tom Wheeler's E-rate announcement today:
"The Chairman's plan represents a long overdue investment in our schools' broadband networks. Educators will not be able to equip students with the skills they need, unless we equip our schools with the technology and broadband access needed to transform teaching and learning."
P21, the leading national organization advocating for 21st century readiness for all students, urges the other FCC commissioners to join Chairman Wheeler in making this needed investment in our schools' broadband capacity.
---------
P21, a broad coalition of education, business, nonprofit, and policy leaders, is committed to ensuring that all students graduate with deep content knowledge, and the creativity, communication, collaboration, and critical thinking skills, required for postsecondary success. Guided by this important national objective and a desire to promote new approaches to teaching and learning, P21 supports cutting edge research, promotes evidence based education policy and practice changes. Learn more at http://www.p21.org
P21 Members: American Camp Association, Apple Inc., Bahcesehir K-12 Schools, Cable Impacts Foundation, The College Board, Common Sense Media, Crayola, Destination Imagination, EdLeader21, EF Education, Education Networks of America, Fisher-Price, Ford Motor Company Fund, Gale Cengage Learning, Goddard Systems Inc., Intel Corporation, Learning.com, LEGO Education, National Board for Professional Teaching Standards, National Education Association, PBS, Pearson Foundation, People to People Ambassador Programs, Project Management Institute Educational Foundation, U.S. Fund for UNICEF, VIF International Education, and The Walt Disney Company.
P21 Leadership States: Arizona, California, Illinois, Iowa, Kansas, Kentucky, Louisiana, Maine, Massachusetts, Nevada, New Jersey, North Carolina, Ohio, Oklahoma, South Carolina, South Dakota, Vermont, Wisconsin and West Virginia.