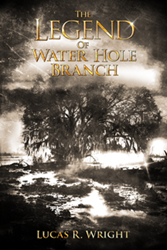 "A jarring, speedy, intelligent novel. I couldn't stop reading."--Brandon Hall, Chief Marketing Office ONEHOPE Wines
Atlanta, Georgia (PRWEB) November 17, 2014
Local finance consultant and author Lucas R. Wright of Atlanta debuted his mystery novel, "The Legend of Waterhole Branch", Oct.12, 2014 as part of AuthorHouse Publishing's suspense line.
Wright, a mergers & acquisitions consultant, writes in his spare time when he isn't assisting clients in buying or selling companies. His background as a writer comes from a lineage of authors and musicians that provided the foundation for his creative development as a child growing up on Waterhole Branch in south Alabama. Five published authors and a critically acclaimed singer / songwriter inhabited his neighborhood and helped raise him. He wrote his debut novel in a blistering ten days between corporate acquisition deals in early 2014.
Set in rural Magnolia Springs, Alabama, "The Legend of Waterhole Branch" is a contemporary story of Hunter Pierce, a quantitative prodigy who grew up on the swamps of the branch. The genesis of the branch was one of the many springs that populated the area and provided Hunter and his two childhood friends, Brian and Camilla, countless opportunities to camp, fish and explore the swampy wooded terrain that encapsulated the largely uninhabited region.
The legend of a 16th century Spanish treasure, once hidden in Waterhole Branch and lost to time, proves to be a reality. Tragedy displaces the inseparable trio just before high school and the three friends are led on drastically different paths through life. Hunter allows his personal tragedy to fuel a search for the treasure while Spanish treasure seekers, kidnappers, and self-proclaimed rightful owners of the treasure conduct their own search placing the two parties on a collision course.
Hunter is reunited with Brian and Camilla in Magnolia Springs fourteen years after they last saw each other. The childhood friends test their loyalties and their wits against the Spanish kidnappers facing certain death at every turn
Wright is available for interviews and appearances. For booking presentations, media appearances, interviews, and/or book-signings contact lucasrwright(at)gmail(dot)com.